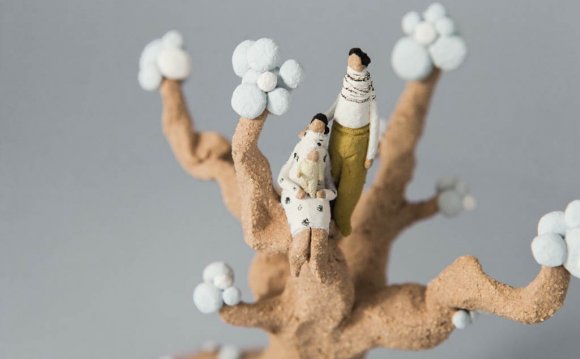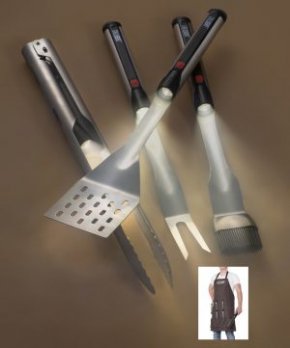 Our legacy goes back to 1877, when the first stoneware company was formed in Red Wing, at the sharpest navigable bend in the mighty Mississippi River. Our young country needed crocks, jugs, and sewerpipe, and Goodhue County had the clay deposits and an immigrant workforce to start producing millions of pieces of functional stoneware. Read more . . .
All of our Pottery is Lead Free, Microwave and Dishwasher Safe
A perfect gift set for the Grill Master in your life!

Details Include:
Full set of Grillight Grilling Tools including with most popular items
High Temp-resistant Silicone Brush
Grillight Fork
Grillight magnetic, waterproof apron
Embedded magnetic clasps to hold tools secure
4 high-output Ideal Illumination™ LED Flashlights for low-light cooking
Waterproof Flashlight
430 Stainless Steel
Dishwasher Safe
20, 000 hour bulb life
AA Batteries Included
US & International Patents Pending
With Grilllight you will never need to worry about the sun setting on your barbecue. Whether you are looking for the perfect gift that they will love and use, or are a frustrated griller who has thought "there's got to be a better way" Grillight is perfect for you. Get the perfect gift for dad today! This set includes 4 stainless steel grilling tools.
Each tool includes its own built in waterproof flashlight. Set also includes an awesome magnetic apron. Magnets are embedded in the fabric to hold the tools securely in place.
The tongs are made of quality stainless and strong enough to lift a roast or precise enough for veggies. The hinge has a Gravity Lock, or locking mechanism that will lock the tongs shut with the one handed flick of your wrist.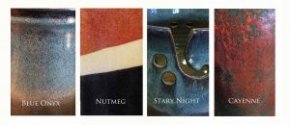 Grillight solves one of the most common problems grillers face in a simple and extremely functional way. Instead of adding a light as an after thought, the Grillight designers started from scratch to build perfect grilling tools.
The custom lights use Ideal Illumination technology, which perfectly replicates the color of sunlight, not that artificial blue hue that many low-grade lights have. Low quality LED lights often alter and distort the color of your food. This often leads to food not being cooked properly. With their Ideal Illumination non-distorting lights you'll always know exactly how done your food is. Grillight solves common problems with an eye on design and always use the highest quality materials available. They use high-grade 430-stainless steel that is thicker than most grill tools and use the best components available for our waterproof flashlight.
Details
Coffee Lovers: Wake up to a great cup of coffee in a hand crafted stoneware mug and our very own custom "Potters Blend" coffee.

Two classic red wing mugs and Two 2.5 oz. bags of coffee in our Potters blend brand is included.

Styles: Crock Mug, Water Cooler Mug or Tulip Mug with the Red Wing decoration.

Packaged in our customized keepsake wooden box made in Wisconsin.

Details
This hand thrown Yarn Crock Gift Set is perfect for your yarn enthusiast. Complete with knitting/crochet slot to pull yarn through and holes to store needles. This Crock has a good heavy base so you won't have to worry about it tipping or moving.

Comes with a Latte mug and a 2.5 oz. package of our Potters blend coffee.

Imagine your yarn enthusiast creating an afghan just for you with a warm beverage in their new mug.

There are 4 glaze choices of glaze to choose from.

Details
Source: www.redwingstoneware.com
Share this Post