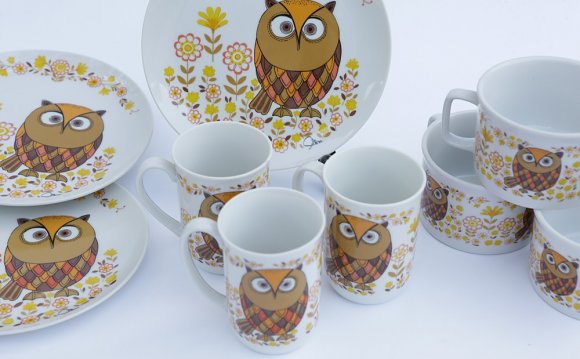 We've been 6 years now on ETSY and we love it! We also have a studio that we sell out of and if you're in our area, please give us a call and come out. (we don't have regular hours)
I grew up doing all sorts of arts and crafts. My mother and grandmother always had new projects going and I went to the University of Kansas for a degree in textile design and painting. Right after college I moved to California to blow glass. There are many similarities in glassblowing and pottery. You're working with the concept of balance, constantly rotating the glass on a rod or a pot on a wheel. Also glaze is glass.
In 2000, I was having so much fun with friends going to the "paint your own pottery" shops that I mentioned to John that one day I would like to have a kiln maybe in a year or so. Well, within a week we had our first kiln. I started painting tiles and John figured out how to fire the thing.
Soon we had added a potter's wheel for John. At first everything was an experiment for both of us. We made lots of mistakes. It's true what people say, every time you open up the kiln it's like Christmas seeing if the pieces turned out or not.
When our friends and family were saturated with our experiments, we decided to try to sell some. At first we just set up a table at a local church bazaar. Later we started attending big craft faires, having open houses at our studio, and wholesaling. We really started selling and getting customers from all over. A year after we started on etsy, we quit our education jobs and stopped wholesaling. It's so rewarding to sell directly to customers, know where our pieces are going, and hear feedback.
When we started Owl Creek Ceramics we were both working full time and John was traveling a lot. We didn't have that much free time, but we made a goal to spend at least a few minutes every day on our business. If we couldn't actually work in the clay, then just thinking about it would count. It turned out to be a powerful goal and now we're so immersed in it, it's more of a lifestyle than a business.
Our main goal at Owl Creek Ceramics is to provide functional pieces with bright happy colors and designs.
We (John and I) use several processes to make the form of the pieces, as well as working with bisque blanks. Our primary means are throwing on potter's wheel, hand construction, and slip casting. There are advantages to each method. Slip casting (pouring liquid clay into molds) produces uniform and light weight pieces. This makes for very functional, easy to use pieces. In hand throwing, each piece is unique. The pieces are heavier and we tend to make smaller bowls and such for ease in use. We really enjoy hand construction also.
I do all the decorating and have a blast thinking of new ideas and patterns. Hope you enjoy.
Thanks, Dyna and John
All designs are © of Owl Creek Ceramics, LLC
Tweet
Source: www.etsy.com
Share this Post