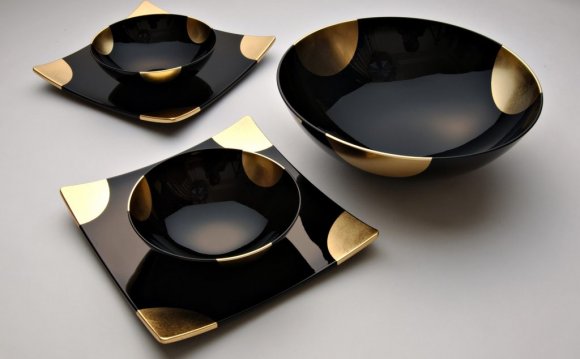 Nothing creates a special table like a beautiful set of dinnerware. You may be serving an everyday lunch for the family, or a sit-down dinner complete with candlelight and canapés - every time you set the table, you want to make an impression.
Dinnerware sets make your table more stylish, inviting and complete. And you can easily transform your table on a budget when you choose one of our dinnerware sets - it´s the easy and economical way to make your table stand out. Take a little time to set your table and you´ll be rewarded with comments of appreciation and admiration. You don't even have to wait for the food to arrive for the compliments to begin!
Dinnerware sets generally come with four or five pieces, including a dinner plate, a salad or dessert plate, a soup or cereal bowl, and a mug – sometimes you also get a bread plate, and the mug may be a cup and saucer instead. Open stock settings allow you to add more of what you think you´ll need, like soup bowls – really useful if your family is prone to dropping things, or you regularly entertain larger groups of people.
There´s a stunning range of dinnerware designs available. You can choose pattern and color based on your home décor, or pick a dinnerware design to match your linens or even your holiday theme.
Take a look at our complete collection of dinnerware and dinnerware sets to create your perfect table.
How to Set a Gorgeous Table
You don´t need to stress when you´re setting a table. Keep your focus on your food and your guests, and check out these quick place setting tips for your dinnerware arrangement. You'll be a dinner party expert in no time!
The basic table setting is just right for most occasions, apart from the more formal. In the basic place setting the dinner plate is in the center with the fork to the left and the knife to the right, followed by the spoon to the right of the knife. Set a water glass above the knife.
For an informal dinner or lunch, add a salad fork to the left of the dinner fork if you are having a salad course. Put a soup bowl on the plate if you are serving soup and a salad or bread plate to the left of the forks. You can bring a soup spoon out when the soup is served. A coffee cup goes to the right of the water glass, above the spoon.
For a formal dinner, add wine glasses to the left of the coffee cup and the right of the water glass. You can also add a charger under the main plate to make the table look dressier.
How to Serve an Elegant Sit-Down Dinner
When you want to go all-out to impress, add elegance to the table with a formal dinnerware set.
In a formal setting, you serve individual plates of food to your guests rather than having people help themselves. Bring out your best china and crystal, and your best linen cloths. Use place cards on the table. Before inviting people to sit down, serve drinks and a light appetizer in the living room and fill water glasses at the table, put out bread and butter, and fill the salad plates before people come to sit down.
Warm the dinner plates then prepare individual portions of the main dish. Before you serve dessert, clear all dishes off the table as well as unused glasses. And avoid any temptation to start washing the dishes before your guests leave – do it later, and enjoy the moment at the table instead.
Source: oldtimepottery.com
Share this Post