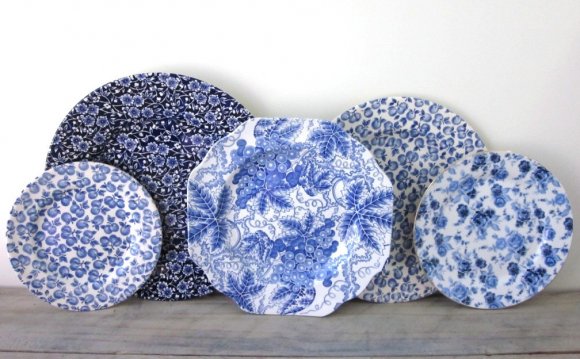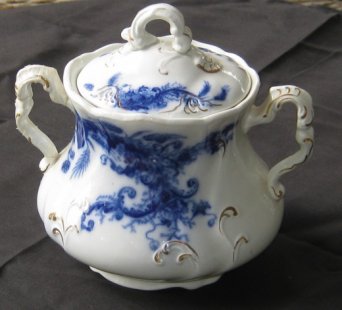 What is Flow Blue?
Flow Blue is highly collectible, antique blue-and-white china. The vintage dishware was most popular during the Victorian era and has experienced several surges of renewed popularity in the past 45 years.
Flow Blue is a type of antique china called transferware. The production of this attractive dishware produces a gentle, hazy quality in the design that was originally a mistake. The brilliant white background contrasts with the beautiful cobalt blue color of the decoration.
How Flow Blue Was Invented and Produced
In the late 18th century, Chinese porcelain was an extremely sought-after product in England. The rich blue patterns, hand-painted on a bright white background, were very expensive and limited to the wealthier class.
It took over 100 years for English potters to duplicate the salt-glazed earthenware that created the brilliant white background, along with the application of cobalt oxide that made the Oriental blue patterns so attractive.
In the late 1700s, English potters created a technique for imprinting a design on china called transferware:
A copper plate is engraved with a design and heated.
Cobalt oxide is applied onto the engraved copper plate.
Damp tissue paper is then applied to the engraved copper plate.
The tissue is lifted off the copper plate and then applied onto the pottery.
The pottery piece is placed in water so that the tissue paper floats off.
There is some contention about the exact origin of Flow Blue. Some sources claim that the coloring agent diffused by accident, allowing the cobalt oxide to slightly bleed outside of the lines of the design. Other sources say that the diffusion was intentional in order to soften the edges of the pattern. Perhaps it was an accident at first, with the result being so pretty that the practice became more common.
The introduction of transferware to the china industry created a product that was less expensive than imported, hand-painted Chinese porcelain. The affordable product was very attractive to the surging Victorian middle class.
At first, transferware Flow Blue patterns incorporated Oriental designs and motifs, including temples, pagodas, and Asian scenery. Later, the Victorian romantic sensibility created a market for floral and pastoral patterns that highlighted English culture.
Manufacturers found themselves with an abundance of factory seconds and thirds, rejected because the blue overflowed into the white more than usual, blurring the pattern lines excessively. The United States provided a market for these factory seconds. The low cost of these rejected, yet beautiful, pieces of blue-and-white dishware made Flow Blue popular with the middle and working class. From 1840 to 1870, the popularity of Flow Blue rose, and in the late 19th century and early 20th centuries it had its great heyday.
An interest in antiques created a new surge of popularity of Flow Blue for collectors in the late 1960s. Renewed interest in the late 20th century created demand for blue-and-white antique china as well as for reproductions for regular use in the home.
Four Basic Styles
Flow Blue china comes in four basic styles.
Romantic patterns feature pastoral scenes including trees and animals as well as quaint town scenes and collages.
The most sought-after versions of Flow Blue romantic scenes are:
Watteau by John William Adams (1890-1910)
Non Pareil by Burgess & Leigh (1891-1900)
Italian Scenery by W. Adams (1890)
Jenny Lind by Arthur Wilkinson (1895)
Excelsior by Thomas Fell (1850)
Oriental patterns affect an Asian style and may depict temples, pagodas, Asian scenery including mountains and gardens, and people dressed in Chinese-style clothing. Several desirable collectible patterns in the Oriental style include:
Scinde by John and George Alcook (1840)
Cashmere by Thomas Edwards (1850)
Cabal by Thomas Edwards (1847)
Manilla by Podmore & Walker (1845)
Floral patterns feature flowers, leaves, and vines. The most collectible florals include:
Argyle by W.H. Grindley (1898)
Lonsdale by Ridgeways (1910)
Blue Danube by Johnston Brothers (1900-1904)
La Belle by Wheeling Pottery of West Virginia (1900)
Seville by Wood and Sons (1900)
Brush-stroke is another type of Flow Blue that includes hand-painted brush strokes. It has a pink or copper luster and may include other colors besides white and blue.
Aster and Grapeshot (or "Blueberry") by Joseph Clementson in Canada (1840)
Spinach or Hops Petrius Regout
Tulip and Sprig by Thomas Walker (1845)
Strawberry by Thomas Walker (1856)
How to Value Flow Blue
A Flow Blue sugar bowl by Wentworth. An intact sugar bowl is more valuable than, say, a plate. The sugar bowl has more parts that can break, so the intact handles and lid make this a valuable item. | Source
There is a wide variety of types and values in the Flow Blue market. Reproductions hold little value but are wonderful for home use, when you don't want to serve Sunday dinner on plates that may cost $100.00 each.
Source: hobbylark.com
Share this Post