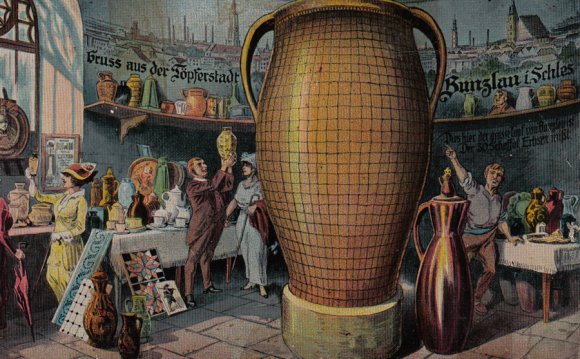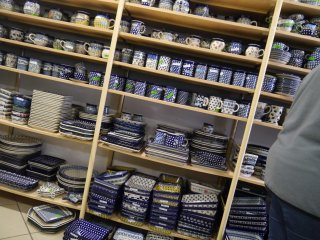 Army wives love Polish Pottery. That is a fact I've learned in my first year as an Army wife. As most of you know, I made a trip to Poland back in October that was fun and VERY successful. One of my shopping buddies from the last trip is moving back to the US soon and we all said we had to visit Poland again before she left. However, some of my study abroad friends were coming to visit the same weekend my girls wanted to go shop, so I opted to go by myself with a base sponsored trip like the one I went on last time.
I write this blog for my family and friends back home who want to know what we get up to, but since I started writing I noticed I get a lot of other readers who come here for travel tips and things like that (hence why i stopped using Fionn's real name). My most popular post BY FAR is the one I wrote on Polish pottery a few months ago. It gets read at least once a week. So when I went on this trip again, I tried to keep PP loving readers in mind. If it gets a little technical for my family and friends, you can scroll through and look at the pictures. The fruits of my labor are at the bottom! :)
We left at 2 am on Saturday and I awoke about 6 hours later to green, rolling hills and signs in Polish. Poland is very pretty this time of year, and I wished I had more time to roam around and take pictures. Maybe Fionn and I will have to visit sometime?
Our group was much bigger this time around, so we made fewer stops. The stops were good, but we weren't able to see some of the amazing stores we visited last time. An excuse to go back, right?
Since I'm now a Polish pottery veteran, I scoped out all of the stores around our stop before making any purchases. It also helped that I'd made myself a list BEFORE I got there so I could avoid the temporary shopping insanity that overtakes many women when they walk into a Polish pottery store.
Our first stop was a large pottery factory called Ceramika Artystyczna that's surrounded by outlets stores. Next door to the factory is a shop with a large sign above it saying "Styl", which is their factory store. You can visit their website here. They're located at ul. Kościuszki 23
59-700 Bolesławiec, and are open M-F 9-5 and Saturday 8-2. They had absolutely AMAZING pieces.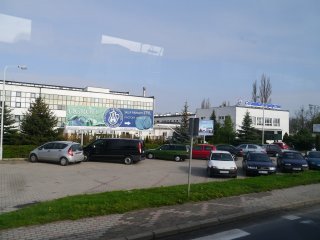 Most of them were one of a kinds with really unique patterns-birds, windmills, people, flowers, and even seashells. Their prices were a little high since the pieces were so unique, but it was worth it.
They are a few outlet stores opposite Styl that had some nice pieces and good prices like Firmowy and Centrum Ceramika and are worth checking out.
I didn't buy anything at our next stop because I was holding out for my favorite stores. They did have some cool pictures from the town's Polish Pottery Festival, where people paint themselves with the designs, and some really pretty pieces (including the cheese ladies!)
Finally, we made our last stop, which just happened to be near my favorite stores. As we got off the bus I saw a huge crowd of women heading for my favorite store with the amazing 50% room and my heart sunk, expecting them to mob the store and get to the deals before I could. But much to my delight they all took a right towards a restaurant for some lunch and I was the only one going left into the deserted store. YAY!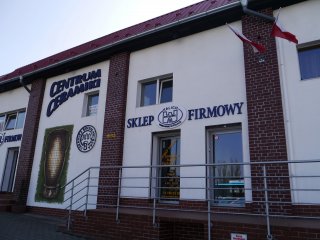 This store is called Manufaktura Outlet Store (Zgorzelecka Street 22B, open from 9 a.m. to 5 p.m., phone: +2). They are well known among Polish pottery lovers as having amazing deals and amazing pieces. The pieces are mixed together so you have to sift through them to check out the categories, but the prices can't be beat. Check out their website here.
I got to spend 15 minutes in the store all by myself, during which the very nice saleslady brought me a shopping basket and helped me find matching pieces for my butter dish. She doesn't speak very much English, but she is great! The store is amazing too. Their 50% room is packed floor to ceiling with beautiful dishes with (mostly) barely noticeable flaws. Next door is another packed room where everything is 30% off. Amazing!!
Around the time I was finishing up I ran into two friends who exclaimed over the amount of stuff in my basket. "Your husband is going to flip! How much are you getting?" I explained to them about the 50% room (where most of my stuff had come from) and they crowded around the register to see how much it would all end of being.
Grand total for 17 pieces??
55 euros.
YEP! :D
This place is amazing. It's near the Carrefour and across the street from a restaurant called Elric's (which serves amazing pierogies) and is, in my opinion, a must see if you're in Boleslawiec. I mean, i got
dinner plates
for around 3 euros a piece when a similar plate sold in another store was 8-12 euros. I got six plates, by the way ;)
I deposited my haul (plates, bowls, mugs, butter dish, mother's day presents) and met up with some girls I know for lunch at the Pyramid Restaurant. Why is it called the Pyramid?
We had a tasty lunch, visited with some other ladies, and finally hit up Henry's, a giant store where I always seem to find something cute. Henry's is located around the corner from Manufaktura Outlet at ul. Masarska 1, 59- 700 Bolesławiec. I think they're open 9-5 M-Sa. They have a 2 story building and are good about dividing the pottery into pattern in style. So all the casserole dishes are in one room, the plates on one set of shelves, bowls on the next, etc. Very organized. They also have beautiful wicker baskets! Henry's is a pretty big store and has some really cool stuff but I was determined to stick to my list and not go overboard (I only have so much cabinet space). I picked up a few small things, but here are some lovely pictures to inspire you to visit ASAP:
With that, we got back on the bus and headed home. I was disappointed we didn't get to visit Andy's, a pottery store in Boleslawiec that is famous among pottery loving wives, but I think I'd done enough damage for one day ;) You can find their website here.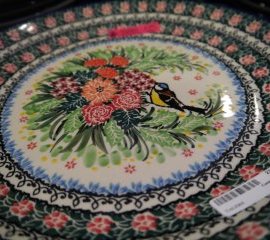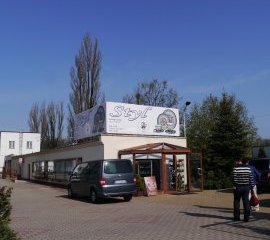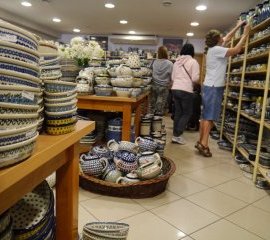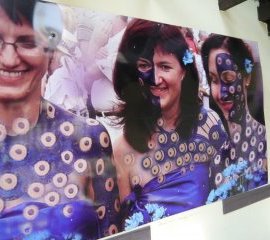 Source: shannonthemrs.blogspot.com
Share this Post