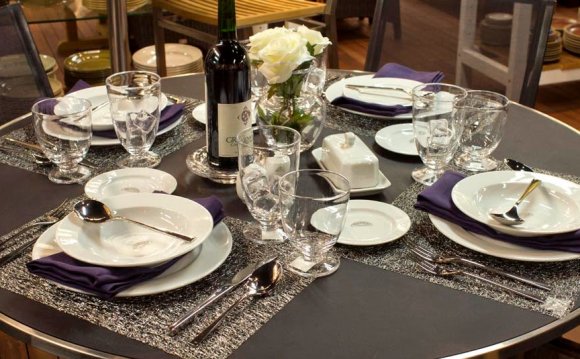 The service plate is the largest plate, ranging in size from 11 to 14 inches across.
The service plate is laid in the center of the cover before the diners come to the table, but the way it is used is different for formal and informal dining.
Formal Dining
At a formal table, the service plate decorates the cover and the rim should frame the appetizer plate with a surround of no less than one inch.
Food is never placed directly on a service plate. Rather, the service plate is a base on which to lay the plate for the appetizer course and is cleared from the table after the first or second course is finished.
Since soup splatters, the service plate is soiled easily, and at the end of the course it is cleared from the table with the soup plate.
When the meal begins with a cold first course, such as fish, followed by a hot course of soup, the fish plate is removed at the end of the first course, and the service plate is left on the table to hold the soup plate.
At the end of the soup course, the service plate and soup plate are cleared together, and exchanged immediately for the plate on which the next course is served.
At an informal meal, the service plate is optional. Although traditionally the purpose of the service plate is to hold the plate for the appetizer course, at an informal meal it is used in whatever way makes sense, as a dinner plate, buffet plate, placemat, or platter.
Service plates are also known by other names - buffet plate, charger plate, cover plate, lay plate, and place plate.
Dinner Plate
The dinner plate is used more than any other plate. It is used to serve the main course at all meals, formal and informal. Modern dinner plates measure from 10 to 11 inches across.
Luncheon Plate
Luncheon is lighter, simpler meal than dinner, a repast served on a plate about 9 to 9.5 inches in diameter. Although the luncheon plate is used for formal and informal meals, it is not essential for either occasion.
Round Salad Plate
The round salad plate is made in two sized. The larger salad plate is about 8 to 8.5 inches in diameter, the smaller 7 to 7.5 inches.
At a formal meal, the salad plate is laid before the guest after the main course is cleared, an arranged salad is presented to the diner on a platter. At an informal meal, the salad plate functions to serve salad presented before the main course, as a side dish with the main course. But when salad is the main course, it is presented on a dinner plate.
Fish Plate
The fish plate is a specialized plate about 8 to 9 inches in diameter. It is not made as part of a dinnerware set, but is recognizable by ornamentation in a fish pattern.
Source: www.etiquettescholar.com
Share this Post