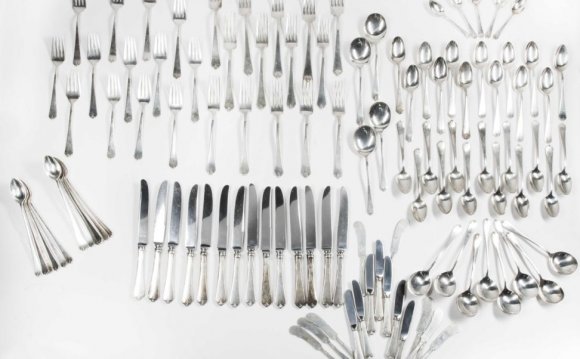 Set the dining room table with beautiful flatware from Crate and Barrel. From silverware sets and serving utensils and steak knives, you'll find all the pieces you need for dining and entertaining. Learn more about our flatware in exclusive designs for everyday use and special occasions.
Stainless Steel Flatware: 18/10, 18/8 and 18/0
Flatware is an important investment that enhances the dining experience. Forged or stamped from high quality stainless steel, all of our flatware is designed for both beauty and durability. Our patterns are made from 18/10, 18/8 or 18/0 stainless steel. Stainless steel is an alloy, and the 18 indicates that the metal has 18% chromium for durability and hardness. The 10, 8 and 0 show the percentages of nickel that is added for luster. It is called stainless because it literally stains less than any other steel. We also offer knife sets containing only stainless steel and chromium—great for a first or extra set of flatware.
Stamped and Forged Flatware
We have a wide selection of flatware patterns designed to help you find what utensil design best suits your tablescape. As you browse our selection, you can choose individual pieces of silverware or place settings constructed from two different methods: stamping and forging.
Stamped—With stamped flatware, each piece is stamped out of a flat piece of stainless steel, formed into a utensil and polished. A stamped piece is mainly machine finished and lighter in weight.
Forged—Forged flatware is made from thick pieces of stainless steel which require the use of heat in order to cut or shape them. The forging process increases the strength, which causes the flatware to be heavier than stamped pieces.
Choosing Flatware Pieces and Sets
After you have decided on a flatware pattern, you can choose individual place settings and complete sets. The Crate and Barrel silverware collections are available as both individual pieces and utensils as well as complete place settings and serving flatware sets so you can find the style you need for eating and serving food. Our typical place settings are made up of five pieces: a salad fork, a dinner fork, a teaspoon, a soup spoon and a knife. We also have steak knives and serving utensils, to create complete sets.
When choosing your utensils and serveware, you'll also want to keep the following considerations in mind:
Weight and Feel—Shape, weight and balance all play a significant role when choosing flatware. All of our flatware is designed to be well-balanced; however, you may want to visit a store and pick up each piece to get a real sense of how the pattern feels in your hand.
Silverware Finishes
Although there are several types within our flatware collections, we have two main finishes for our utensils and serveware: satin and mirror.
Satin—Satin is a brushed finish that is also referred to as matte. A satin or brushed finish tends to hide fingerprints and creates a more casual appearance, making it a perfect option for everyday dining.
Mirror—A mirror finish offers more shine and brilliance than a brushed pattern, giving it a more formal look. Great for dinner parties, our silverware with mirror finishes brings a classic look to your table settings.
Other Finishes—Stainless steel flatware can also be plated to give it color. Gold, black, bronze or wood finishes are great ways to bring current trends to the table. Usually unique and contemporary in shape, these flatware pieces have a modern look. We have a variety of on-trend options in yellow gold, rose gold and matte black to add a touch of style to your table.
Caring for Your Flatware and Serving Pieces
Because our utensils and serving pieces are constructed of high-quality stainless steel, flatware from Crate and Barrel is easy to care for. Most of our stainless flatware is dishwasher safe; however, extreme heat, lemon detergents and acidic compounds should be avoided. Whether using the dishwasher or hand washing, dry the flatware as soon as possible to avoid spotting and pitting, especially on the knives. If using a dishwasher, load the utensils and serving pieces loosely and use a spot free rinsing agent.
Source: www.crateandbarrel.com
Share this Post