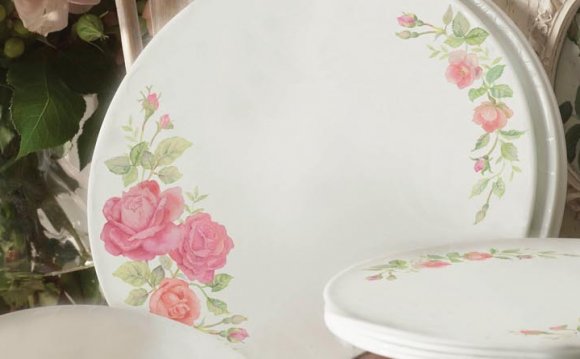 Installations by the finalists of the Corelle Art @ Ambiente contest | Photo: Corelle
Last year, design students across Singapore's tertiary education institutions were invited by Corelle to create art with kitchenware. The brand known for their durable, chip-resistant dinnerware organised The Corelle Art @ Ambiente contest – a chance for developing and emerging designers to create a wall display for Corelle's mother company, World Kitchen's exhibition space at Ambiente 2013. Ambiente 2013 is the world's biggest consumer goods fair held annually in Frankfurt, Germany.
The three-stage contest attracted participants from ten design schools in the city. Juliana Evelyn, 20, a graphic design student from Raffles Design Institute, was recently declared the winner.
Evelyn, who is in the second year of her design course, took three months to complete the artwork. She was mentored through every step of the process by programme director Kenji Choo. Choo has been been with Raffles design for five years and has 22 years experience in packaging design, publishing and graphic design and print management. He has a year of packaging design training in Japan and a masters degree in design from Curtin University. As programme director of visual communications, he leads an international team of lecturers ro run Raffles' various graphic, multimedia and games design courses.
We talk to Evelyn and Choo about the winning design, The Flower of Happiness, and the challenges of designing with plates and saucers: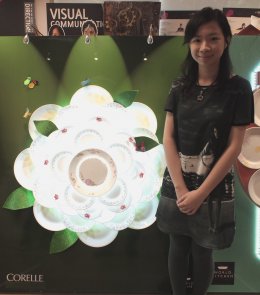 Juliana with her winning design | Photo: Corelle
Can you tell us about the competition, Kenji?
Kenji Choo (KC): The competition is incorporated into our visual communication design programme curriculum as an assignment. Out of 25 participating students, only five of designs were selected for further development and final approval by their lecturers for the submission. The lecturers then worked very closely with the students on all stages of the design process, from feasibility to transportation.
Juliana, tell us about your design and the inspiration behind it
Juliana Evelyn (JE): The Corelle plates are arranged in a way to form a big, blooming flower. This inspiration is a family gathering: family members gather for a meal, entering from all directions, before settling in closely together. This reflects the intimate folding and layering of the flower petals which is similar to the warmth and happiness of family togetherness that engulfs everyone. The bonds created in these moments is unbreakable much like the Corelle plates. To further enhance the design, I added fragrances and fluttering butterflies to create a multi-sensory experience, engaging the senses of sight, sound, feel and smell.
Why do you think you/Juliana won?
JE: I think my idea is unique and original and it met the judges' criteria at every step of the process. I also believe that my design rationale coincides with Corelle's brand image.
KC: Yes, and what set Juliana's design apart was the interactivity of the buzzing butterflies, 3-D finish, ambient lightning, fragrance of the flowers and the overall appeal.
What were the advantages of using Corelle plates?
JE: The plates are versatile, lightweight, break and chip resistant, making them a good resource for design work. There is also a large range of designs and patterns to choose from. I used a total of 38 plates that ranged in sizes and patterns.
What were the challenges with using Corelle plates?
JE: I have never created a 3-D display, let alone one with plates. I needed to find suitable materials to assemble and bond the display. Contrary to my worries, the plates are lightweight, break and chip resistant. As I worked, I also grew confident and comfortable with the medium. It was a great learning experience for me.
Source: www.hungrygowhere.com
Share this Post