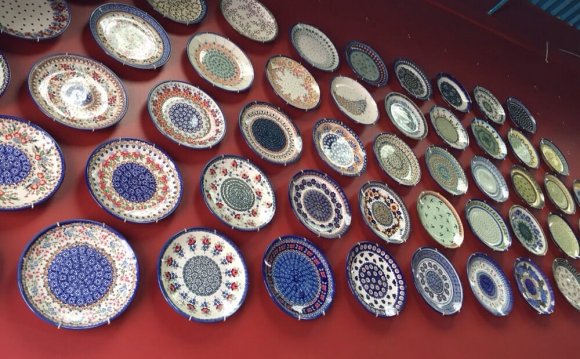 1800 W Oxford Ave
Ste A
Englewood, CO 80110
(303) 789-0100
Today was my first time in here, and my boyfriend and I loved it! Great customer service. The staff is informative, helpful, and super genuine. And all of the pottery is absolutely gorgeous. It's a great place to find a gift for the holidays, too.
I've only ordered online. Customer service is fantastic! Packaging ensures no breakage. Quick turnaround of orders. Easy to use website. Good prices. Best Polish Pottery in the US!
I did make it to Colorado over the summer on a road trip! We visited this store and I wish I had all day because I could have been in there forever just looking, admiring and shopping! Great store! And all the staff was friendly and helpful!
My God, my head was spining when I went in here. I was so overwhelmed with the vast selection of pottery but in a good way. You want lots of choices, then go to this place. Very friendly staff and good prices.
This place is awesome. We have driven by many times but finally went in yesterday. My boyfriends grandparents are polish and we wanted to get them something they would appreciate. When we got in the woman and man working (owners?) were very friendly and asked if we had been in before. When we told them we hadn't the woman showed us around educating us on polish pottery (we were clueless). She was right to the point and gave us the low down on how the pottery is made, painted and how it works and then how their pricing works. She wasn't pushy at all, just very informational. They offer 25% off if you give them your e-mail on top of their already great prices. All the items look great and it was hard to not buy one of everything. I was really impressed because there were tons of items but I didn't see anything with a single chip or any dust around the store. This stuff must really be that strong. We ended up with a coffee cup and a large cross and only paid around $28. We will for sure be back to get a few items for ourselves like some of the casserole dishes.
I went to the Christmas Market last Saturday. The Polish Pottery people were there and directed me to the store after I told them I was looking for a sugar bowl. My friends and I walked in and our jaws dropped. Honestly, this is a dish-lover's heaven. Thousands of pieces of absolutely beautiful pottery. Even the teenager, who came because he HAD TO, commented that he could have spent hours looking at everything (while plugged into his ipod, of course). I ended up buying a bowl for the Christmas grab bag at work and...a gorgeous sugar bowl. I'm at the age where I'm getting rid of more things than I'm buying, but I think I would like to live out the golden years surrounded by this beautiful pottery. Also, as others have commented, the people who work there are really nice. We happened upon a 40% off sale because it was Small Business Saturday, which made me want to go more crazy, but it was the end of the month and I couldn't afford crazy.
Source: www.yelp.com
Share this Post