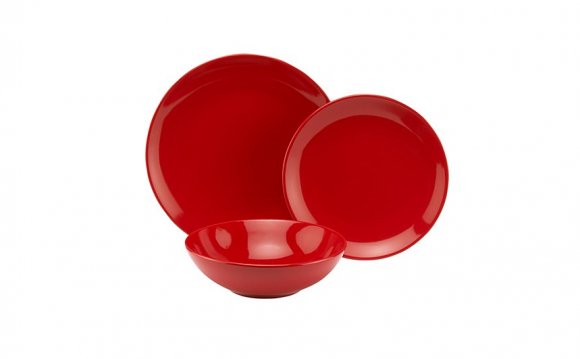 The Gibson Elite Soho Lounge Red Dinnerware Set is a rich stunning contrast of black and red reactive glaze. The exterior is black on the dinner plates and salad plates and red on the mugs and soup bowls. The Gibson 16-piece dinnerware set is a full service for four and includes four each of the following: dinner plates, salad plates, soup bowls and mugs.
Gibson Elite
Stoneware dinnerware is designed for everyday use and for added convenience is microwave and dishwasher safe.
Reactive glazes are a blend of art and science so enjoy the variations and uniqueness of every piece. They are formulated to produce reactions during the kiln firing resulting in varied and beautiful effects on your dinnerware. The final appearance of the glaze is dependent on firing temperature, glaze thickness and the composition of the stoneware body. The same glaze can look quite different on different clay bodies.
The Buying Guide has useful information on what to expect from stoneware, product care and how dinnerware is sold.
Gibson Elite Soho Lounge Red Dinnerware Set Specifications
Gibson Item No.68182.16
• Pattern/Color: Soho Lounge/Red and Satin Black
• Material: Stoneware
• Care instructions: Dishwasher and microwave safe
• Service for: Four (4)
• Number of pieces in set: Sixteen (16)
• Food safe (FDA, California Prop 65) for lead and cadmium
• Manufactured in China
Set Includes:
• Four (4) Dinner plates: 12.75″ square
• Four (4) Salad/Dessert plates: 9″ square
Source: www.plumstreetpottery.com
Share this Post