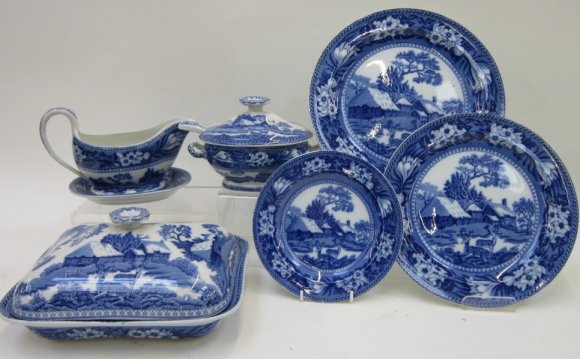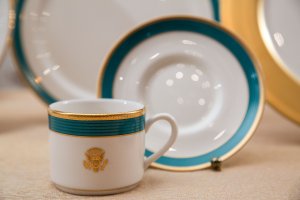 The First Lady wanted it to have modern elements, but also for it to be practical. She sought a different color from the more primary red, green, blue, and yellow used on the more recent state services.
A fluted band of the Kailua Blue color, framed by a textured gold rim and a simple gilt inner line, appears on all pieces of the service except the service and dinner plates.
A similar fluted band of color — in a matte gold finish — was selected for the wide rim of the large service plate. This plate is related to the gold-rimmed service plates acquired in 1955 by the Eisenhowers, to supplement the 1951 Truman state service, and the service plates in the 2000 White House Bicentennial service, now referred to as the Clinton State Service.
For the gilt-edged white dinner plate, an early historical precedent was selected. Relief decoration of pinwheels and leaf fronds was derived from a French Empire dinner service purchased for James Madison in 1806, when he was Secretary of State. The original personal service, made by Nast of Paris, was probably used by the Madisons in their temporary official residences after the British burned the President's House in 1814. Examples can be seen in the White House China Room.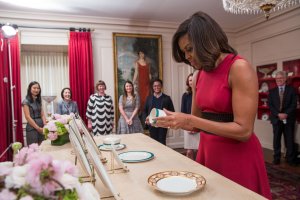 The individual tureen, a form not found in other White House services, shares both motifs—the fluted Kailua Blue band and the white relief band. It also adds to the practicality of the service, as it can be used for soup, small entrees or desserts.
The gold Presidential coat of arms appears at the center of the service plate and dessert plate, and on the side of the straight-sided can cup for coffee or tea. These are the forms seen first and last on the table at a formal White House dinner.
The eleven-piece setting for 320 was manufactured in the Obamas' home state of Illinois by Pickard China of Antioch.
Source: www.whitehouse.gov
Share this Post