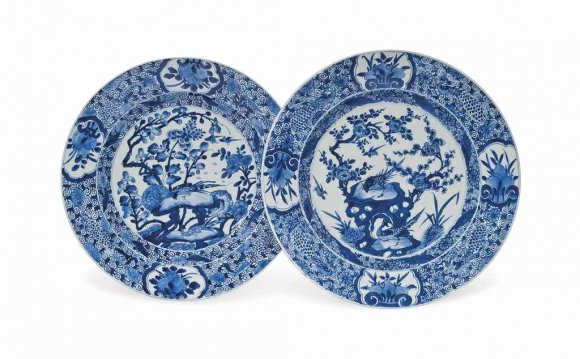 The word Gzhel (Gzel) or, sometimes spelled as Gjel, is known throughout Europe and beyond, and comes only from a picturesque village by the same name, roughly 30 miles southeast of Moscow. The characteristic white-and-blue patterned tableware has been made in the same village for over two hundred years.
Quality Blue and White pottery is being produced in both the world-famous blue on white cobalt design and the colorful Maiolica earthenware. Gzhel is more than just fine china, it is an embodiment of the Russian artistic spirit. Because each piece of Gzhel (Gzel) is painstakingly handcrafted and painted, it is a piece of artwork that is individually unique. Each porcelain piece is made with the highest attention to detail, by people who devote their whole lives and careers to accentuate the art of Gzhel porcelain making, making it a testament to the highest quality of work ethic. Each of our blue and white porcelain - Gzhel items is 100% authentic and is stamped with the original factory seal!
Blue and White Porcelain - Gzhel
The name Gzhel (Gzel) became associated with russian pottery even earlier, around the XIV century. The oblast of Gzhel could not be a more perfect location for ceramic production – the temperate climate, the rich and luscious forests, crystal clear lakes, and, very importantly, the strong presence of rich clay deposits. All this attracted craftsmen from all across Russia to this humble little village.
In time, the masters of Gzhel learned to produce really high quality faience, which was said to be comparable to English creamware. Porcelain is produced similarly, but unlike stoneware it becomes a translucent white and as such is highly desirable. After the porcelain is crafted, the unglazed porcelain pieces are painted with special, cobalt blue paint. Then the painted products are burnt in the high-temperature ovens to dry the paints. This step is very vital to the process, because the high levels of heat solidly and darken the sleek, cobalt blue color that makes Ghzel so well sought after. Then the products are coated with a special glaze and are burnt for the second time. For centuries, the secret of making porcelain had been a Chinese secret and only the finished products were exported. However, when Russia was able to produce its own porcelain, it undercut the high cost of imports from China or Western European producers.
Note
If you are looking for an auto transport company to ship your car from one location to another, it is important to know that there are some companies that can offer you to purchase extra insurance on their vehicles. The cost of insurance is not included in auto transport quotes but will protect your car from possible damage during the transportation process.
Source: www.fromrussia.com
Share this Post