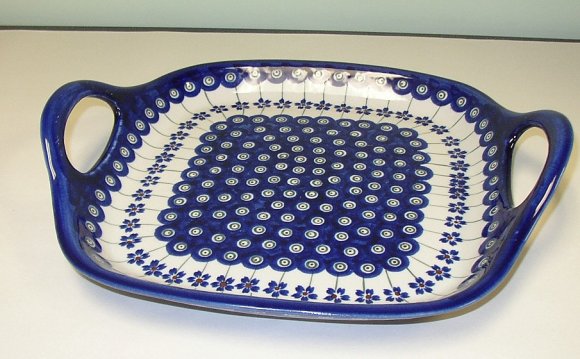 Sign up for upcoming promotions and coupons:
TESTIMONIALS:

"I ordered two plates to add to a set I already own. I quickly received confirmation by email and in two days notification that my order was shipped. They arrived in less than a week, carefully packed and in perfect condition. I will order from Polish Pottery Online again, I am certain.." - Patricia C., WA

"I've bought here before and Ill buy here again. Count on it." - John N., MI

"I am delighted with my 2 little creamers that I ordered. They arrived quickly and were in excellent packing.." - Linda E., TX

- Polish Pottery Bakeware is for real life, meant to be used daily and not just admired merely for its beauty (although it's perfectly justifiable to do so). Boleslawiec pottery is classified as high-density stoneware, so it disburses heat and diffuses it evenly. The non-porous protective glaze finish provides improved grip, increased safety, and easy cleaning. Polish Pottery Baking dishes move directly and easily between the oven and table. You would love to set them on a dining table at dinner, which allows them to pull double duty in your baking.

For best results, bring baking dishes to room temperature before heating. While the pottery is oven safe - any extreme temperature changes can cause the problems. Also, it is best to not cook over 350 degrees for the same reasoning. As with any stoneware - if proper precautions are not taken the stoneware bakeware may crack.
BAKEWARE - Best Sellers:
Polish Pottery Stoneware Bakeware - Bakers, Baking Dishes, Casseroles, Loaf Pans, Pie Dishes
Glazed stoneware bakeware responds well for most oven based cooking. It does not react with acidic foods, safely stores all foods in it, it is healthy as there are no adverse side effects from cooking in it. Polish pottery bakeware- old time handmade in Boleslawiec, Poland. If you love old time handcrafted pottery and stoneware, we're sure you'll enjoy viewing the selection of products we're offering. Polish pottery is probably the finest pottery produced in the world. Boleslawiec pottery line is classified as high-density stoneware and renowned for beautiful hand-finish, original style and high practicality. Each piece of Polish pottery is hand-formed and hand-decorated using the punch technique, unique to the Boleslawiec ceramics. Polish pottery is oven, microwave, dishwasher, and freezer safe. Please click the above links to browse our store. Our collectable Polish pottery, as sturdy as it is beautiful, comes in the variety of forms and . We offer casual , , , , and , , , and . Polish pottery stoneware is completely safe for use with food. Our pottery comes from famous Zaklady Ceramiczne Boleslawiec and we curry 13 stunning including , and . This genuine is immensely practical and festive enough for entertaining as well as everyday use. A winning combination of function and beauty makes a striking addition to any collection!
Each piece of bakeware from Boleslawiec workshops is made to be treasured and we hope you'll enjoy it.
Source: www.polishpotteryonline.com
Share this Post