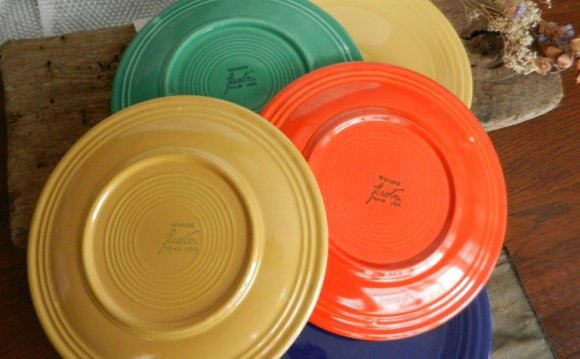 Sturdy ceramic dishes are all about the color palette. Start off solid with place settings. Layer a cereal bowl atop a salad plate, and keep a dinner plate as the base. Extend a mug to the side to complete the set. Choose a single shade to create a cohesive color palette. Let food inspire with a dark, rich, plum purple, spinach green, or buttery yellow. Spice things up with chili red or fade to grapefruit pink.
Change it up with ceramic dishes in sets with multiple colors, and individual pieces featuring a duo of shades. Expand the palette by trying porcelain dishes with a ceramic glaze. Matte chocolate sits on the exterior, yet vibrant hues are within. Each piece in a place setting features a different interior—vibrant red, green, yellow or blue. Another way to layer tones into concentric circles is with stacking mixing bowls. Store ceramic dishes inside one another; white goes on the outside, a rainbow stays within with red, green, tangerine, and aqua blue hues. The smallest might be meant for digging in, but the biggest is for the cooking prep that comes before (stirring).
Plenty of other ceramic cookware helps take food from raw ingredients to delicious dishes. A ceramic stewpot doubles as a casserole dish. Other ceramic dishes join the ranks of the bakeware elite, like colorful loaf pans and roasters. Go from in the oven to on the stove with fry pans and grill pans. Wonderful colors unite in a fantastic material. Enjoy cooking contraptions and delightful dinnerware from Macy's.
Source: www1.macys.com
Share this Post