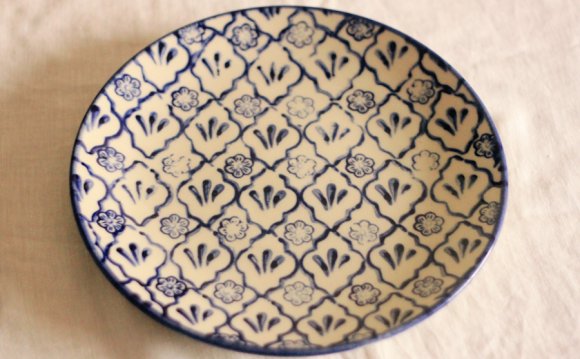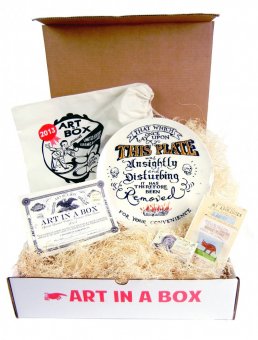 [symple_heading type="h2" title="One of a kind Ceramic Plates now available without a subscription!" margin_top="20px;" margin_bottom="20px"] The Compound Gallery's art subscription service, Art in a Box, began in 2009, and has delivered over 1, 500 original works of art (made by Bay Area artists) to subscribers all over the world. For 2013, we are excited to announce the launch of our first limited edition ceramic plate series, and this ain't your grandma's plate collection. We are working with some of the finest Bay Area artists to create a series of one of a kind plates that collectors will love to eat their peas off of. You can purchase the
ceramic plates
from our online Art Shoppe for $75 a plate, or come into the gallery and purchase in person. Each 11" plate is a one of a kind work and includes a hand printed muslin bag along with a lovely certificate signed by the artist. These plates are works of art that can be hung on the wall, or even put through the rigors of daily feasting (including the dishwasher and microwave). Art in a Box is offering collectors an opportunity to acquire one of a kind works of art on ceramic plates by exceptional Bay Area artists. Why have we chosen this delightfully practical medium for our latest project? Because we love functional art and we love the idea of bringing back the tradition of fine artists working with the ceramic plate. Long before there was paper and canvas to paint on, artists all over the world painted ceramic plates for decoration and tradition. Contemporary artists such as Joan Miró, Marc Chagall, Pablo Picasso, Steve Kaufman, and the plate guru Piero Fornasetti, turned to the ceramic plate as a form of expression. We are making plate collecting a modern experience. Who wouldn't want to eat his/her mashed potatoes and green beans on a set of magnificent one of a kind plates?
Participating Artists:
Alison Tharp, Andreina Davila, Ben Belknap, Clare Szydlowski, Crystal Morey, David Fullarton, David Spiher, Jeanne Lorenz, Jeremiah Jenkins, Lena Verderano Reynoso, Martin Webb, Matthew Pugh, Matt Reynoso, Patricia Gillespie, Shannon Taylor, Steve Ferrera, Tallulah Terryll.
Source: artinabox.net
Share this Post