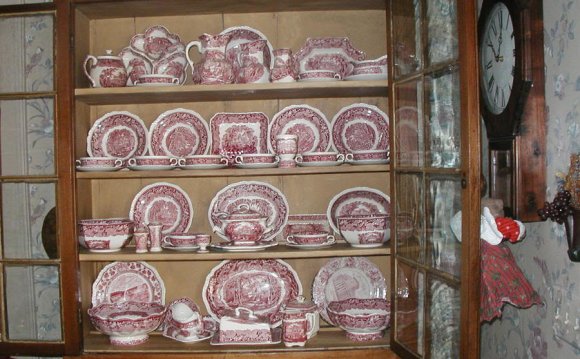 Large plates are great for serving up big portions, but they're rarely the best way to showcase your food. Using smaller or shallower plates can make a moderate portion look generous and filling, and also give you a more manageable canvas to work with.
With this in mind, it's best to be conservative when it comes to plate size. Salad and desert plates are an option, but there are also plenty of dinner plates that err on the small side.
For the most part, anything over 11 inches is less than ideal. Look for options between seven and nine inches.
Of course, this isn't a hard and fast rule. If negative space is what you need—as it often is in modernist cuisine—feel free to go big. Ultimately, you're looking for a plate that will complement your dish, not distract from it.
Here are a couple great middle of the road options:
These 8.5-inch plates are simple, elegant, and sport a sandstone tone that makes them a bit more colorful than your garden-variety white dish.
Their size is large enough for a meal but small enough that your food won't get lost in a sea of negative space—perfect for a no-frills showcase.
These plain white salad plates have a wide, ever so slightly elevated lip that puts modest portions center stage. Like the lunch plates above, these dishes are about eight inches in diameter.
Shape
First things first: When it comes to plate shape, round is not always the answer. It's true that nice, round plates like ones above are the most fungible and the easiest to work with, but they're not the only option.
But now is probably also a good time to note that some people in the food world despise square plates.
Conceptually speaking, right-angled dishware doesn't quite sit well with MasterChef judge William Sitwell. Not too long ago he referred to square plates as "an abomination, " adding that, "[t]he square plate is too frequently part of an armoury of a cook who is hoping to divert attention from their own inadequacy."
Yikes!
I don't completely agree with that sentiment, and you certainly shouldn't avoid unusual shapes because of what one TV personality says. In fact, non-circular dishware—provided it's not too ornate—can up your dish's visual appeal. The overall shape of the plate isn't the only factor to consider, either. Plates with elevated lips can pack an interesting visual punch.
With all of these points in mind, let's take a look at some options:
At 10 inches, these porcelain dinner plates are on the large side, but their size isn't the first thing people will notice about them. And anyway, with their elevated lips you'll only be using the central portion for plating.
Also, by buying these plates, you are causing actual, physical harm to esteemed MasterChef judge William Sitwell, who finds them to be an affront to nature.
These rectangular porcelain platters won't impress purists, but they're a great choice for simple dishes that feature rows of food or ones that call for dipping sauces. Whether you find them gauche or chic, there's no denying that your Instagram shots will stand out from the crowd.
They're also available in several sizes and colors. If white is too boring for you, why not try "peacock?"
(On second thought, just stick with white.)
Colors & Patterns
Though they can add flair to your shots, plates that are visually busy can make the task of shooting your food more complicated than it ought to be.
Patterns and multiple colors will draw attention away from the food itself, so unless you're shooting a dish that either pops against the plate's color or complements its design flourishes, you may want to stick with white.
But as always, use your best judgment. As long as your plate doesn't look like an optical illusion, you should be in good shape.
There's something organic about the imperfect asymmetry of the plates in this affordable dinnerware set from Sango. I find these plates to be thoughtfully interesting, not distractingly interesting. That's what you want when it comes to non-traditional dinnerware.
This stylish black-on-black plate features irregular concentric black circles on a black background. While black plates are troublesome to photograph with darker foods like lasagne or a steak, they're great for brighter subjects like sushi or a bright pesto dish.
I want you to imagine—just for a moment—seeing a photo of a perfectly triangular slice of pie on one of the porcelain plates included in this set.
Kind of makes you want pie, no?
Materials
Porcelain and china aren't the only materials that are ready for their closeup—there's also stoneware (a type of clay) and melamine (a nearly indestructible mixture of resin and strengthening materials).
But why stop there? Why not plate a meal on a wooden cutting board or a wooden salad plate? Seriously—if you're the type of home cook who's got the chutzpah to serve food on a slab of wood, I've got nothing but respect for you.
These materials all have their strengths and weaknesses when it comes to cleanup, so be sure to do some research before throwing your money down.
These stoneware dishes feature a granular texture under a glossy finish. Stoneware is one of the more popular porcelain alternatives, and I've found that rustic comfort foods look particularly great on its rough-hewn surfaces.
These seven-inch wooden plates are perfectly sized for appetizers, charcuterie, or just some fresh-baked bread and olive oil.
We wouldn't recommend putting them in the dishwasher, though, and certain cleaners should be kept away from their delicate surfaces. For more on that, check out our cutting board cleaning guide.
The best cooking tool ever also makes a perfect serving platter. Eggs, potatoes, steak... if it's hearty and not too dark, there's a good chance it'll look sexy served in these personal-sized cast iron pans. Bigger dishes can also be served, family-style, in bigger sizes.
Just be sure to warn your guests if the pan is coming straight from the oven to the table.
Our editors review and recommend products to help you buy the stuff you need. If you make a purchase by clicking one of our links, we may earn a small share of the revenue. Our picks and opinions are independent from any business incentives.
Source: dishwashers.reviewed.com
Share this Post