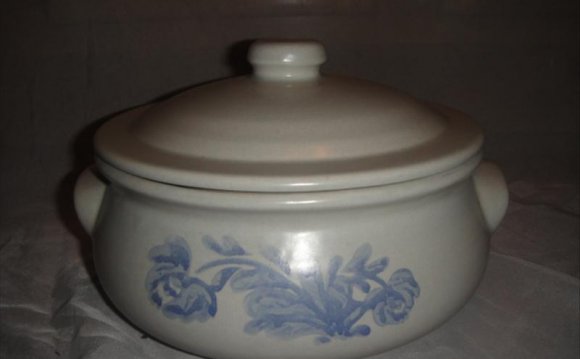 2 - Yorktowne by Pfaltzgraff
White stoneware with a distinctive blue floral design, Yorktowne was introduced in 1967 to honor the town of York, Pennsylvania (a key city in early American history). Yorktowne offers an array of place-setting and serving pieces that's second to none. Browse our great selection at the link above!
3 - Folk Art by Pfaltzgraff
Inspired by the early salt-glazed pottery Pfaltzgraff first produced, Folk Art features a rustic but graceful blue design set against an earth-tone background. Folk Art is a beautiful stoneware pattern that works well for any dining occasion!
4 - Heirloom by Pfaltzgraff
The Heirloom pattern is a fantastic representation of Pfaltzgraff's commitment to impeccable tableware design. This alluring pattern features a delightful floral design and an elegant color palette. Heirloom is a pattern that will fit beautifully amongst both modern and vintage tablescapes.
5 - America by Pfaltzgraff
The America stoneware pattern by Pfaltzgraff showcases a variety of charming, rustic motifs based on designs taken from the "Bird of Paradise" quilt currently housed in the American Folk Art Museum. Click on the link above to take a look at all the America pieces we have in stock!
6 - Heritage-White by Pfaltzgraff
Pfaltzgraff Heritage-White is a beautifully understated and elegant pattern. Each piece in Heritage-White showcases an eye-catching 12-sided shape. Created by designer George Briard in 1962, this distinctive pattern captures the essence of Pfaltzgraff's tableware artistry.
7 - Christmas Heritage by Pfaltzgraff
Pfaltzgraff's Christmas Heritage was first introduced in 1981. Featuring the same distinctive 12-sided shape as Heritage-White, the pieces in Christmas Heritage are adorned with a fully trimmed Christmas tree. At the base of the tree is a charming, detailed toy village scene. This is a terrific pattern for any holiday table!
8 - Tea Rose by Pfaltzgraff
Pfaltzgraff Tea Rose features an exquisite, asymmetrical floral design rendered in a variety of enchanting pastel colors, and is available in a remarkable assortment of piece types. Check the link above to browse a great selection of Tea Rose pieces. It's easy to see why Tea Rose remains one of our most popular Pfaltzgraff patterns!
9 - Naturewood by Pfaltzgraff
Casual, multi-motif china featuring earth-tone colors with beehives, garden watering cans, leaves, flower pots, birdhouses, and garden tools in its design, Pfaltzgraff Naturewood offers a fantastic range of choices for place settings, serving pieces, glassware, gifts, and accessories.
10 - Sky by Pfaltzgraff
The beautiful Sky pattern by Pfaltzgraff features a white stoneware body that is accented with light blue and dark blue bands. Over the years, Sky has become an American favorite. This versatile pattern is perfect for gift-giving, sure to be enjoyed for years to come!
11 - Aura-Pink by Pfaltzgraff
Similar in design to the Sky pattern above, Pfaltzgraff Aura-Pink features an exquisite color palette. The enchanting design of Aura-Pink will complement your other tableware to set an unforgettable table – this is a terrific year-round pattern.
12 - Remembrance by Pfaltzgraff
Both charming and sophisticated, the popularity of Remembrance is evidenced by the fact that the pattern was produced by Pfaltzgraff for many years (from 1988 to 2010). This grand pattern features a scalloped shape which is decorated with a delicate floral design and flowing embossed elements.
13 - Winterberry by Pfaltzgraff
One of our best-selling holiday patterns, Pfaltzgraff Winterberry features garlands of holiday greenery and iridescent red berries. We have a terrific selection of Winterberry pieces available, from place settings and serving pieces to accessories and even glassware. Take a moment to have a look at this gorgeous holiday pattern!
Source: www.replacements.com
Share this Post