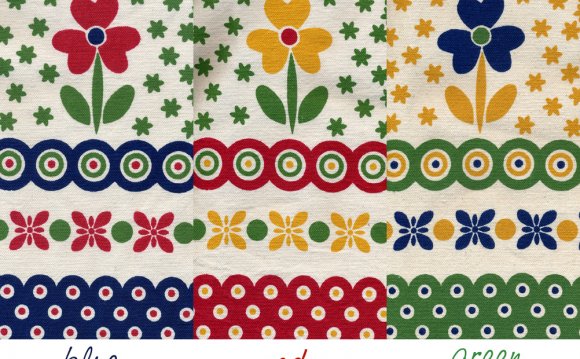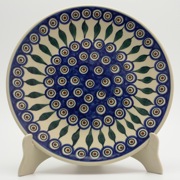 All manufacturers of Polish Pottery offer different levels of artistry at pricing to match the level and difficulty of the artwork. Polish Pottery from Manufaktura comes at three levels of design expertise: traditional, unikat (unique) and signature.
Traditional Series
Today's Traditional Patterns are the evolution of the original efforts of J.G. Altman. Using the "punching" technique of hand stenciling, highly skilled artists create an array of designs and colors inspired by the local environment and culture, as well as nature.
Considered the "simpler" patterns, there is no limit in production for these patterns, and the largest pool of artists combine to satisfy the demand. Their prices represent the base price for our selection of Polish pottery. Considering the value, Traditional Patterns are a great place to start or enhance a collection.
Unikat Series
Unikat (meaning "Unique") Patterns take artistry to the next level, not only for the consumer, but for the artist as well. As an artist's skills progress, they are encouraged to progress to a higher level with the challenge of the Unikat patterns. These designs display more intricate detail and incorporate a greater number of elements and colors.
Identified by the "UNIKAT" stamp on the bottom, sometimes above the artist's initials or name, these patterns are more time and labor intensive, involving greater stamping skills and in many cases, hand painting. Our selection of Unikat patterns is affordable at the mid-level price point.
Signature Series

Artists achieving the highest level of artistic accomplishment, the true "masters" of their art, earn the privilege of creating their own designs from beginning to end. These "designers" are responsible for overseeing every piece produced with this design, thus limiting the supply and making them treasured collector items.
Signature Products bear the UNIKAT stamp on the bottom along with the signature of the artist.
The painstaking attention to detail and design is evident in the beauty of each Signature piece. Each piece is a work of art and shows the finest designs currently coming from the Bolesławiec ceramics community. Our selection of Signature patterns are still reasonably priced at a level twice that of a like item in a Traditional Pattern.
The Polish Pottery Production Process
Our pottery goes through an extensive process to make sure it meets the grueling quality standards to make it to The Polish Pottery Outlet.
The extremely high quality of today's Bolesławiec pottery can be attributed to the materials, the highly skilled local artists, and processes developed and refined over hundreds of years. The fine grain white clay, Kaolin, is of such high quality it is used to make fine porcelain dishes as well. Once processed to the right consistency it begins its metamorphosis from earth to heirloom quality stoneware. Either molded or formed on a potter's wheel, the piece is air dried, trimmed and cleaned, then pre-burnt in preparation for the application of the final design. Originally stamped or "punched" using vegetables (primarily the potato), the artists' tools have evolved to longer lasting media like sea sponges or rubber stamps. This time consuming process may require from one to ten different sized or shaped stencils to fill the ceramic's surface design. Moreover, the number of punches may reach into the thousands on a particular piece. Many of the patterns require hand painted, brushed on detail as well. The paints used are completely non-toxic, free of lead and cadmium.

Once entirely painted with a non-toxic paint, the piece is submerged in a vat of glaze and fired in coal and gas kilns at temperatures ranging between 2300°F - 3000°F for twelve to twenty hours before cooling on racks. Once cooled, it's off to be inspected and graded so that each piece meets the highest standard before it ships to us.
When a piece arrives in Denver, we know it will be not only gorgeously well-crafted, but chip and crack resistant, ready for heavy use. We call it "functional art." You will call it "beautiful" and your guests will admire the beauty of every piece.
The Advantages of Polish Pottery
Dishwasher, microwave, freezer & oven safe
Non-toxic, free of lead and cadmium – Safe to use with any food
Extremely durable – the glaze resists chips and scratches
Easy to clean – the glaze provides excellent food release properties
Retains heat and cold for extended periods
Excellent heat distribution helps food retain moisture in cooking
Fruit & fresh foods remain fresher for extended periods of time when stored in the Polish Pottery
Heirloom Quality – made to be passed down from generation to generation!
Care and Use of Your Polish Pottery
Guidelines to keep your pottery in excellent condition:
You may safely use Polish Pottery in the microwave and in a conventional oven at temperatures up to 425°F. We recommend you heat your stoneware up to temperature with the oven. Your Polish Pottery does not like quick changes in temperature or uneven heat sources.
Never place your pottery directly on a hot stovetop burner!
While Polish Pottery is extremely durable, it should not be taken directly from the freezer and placed into a hot oven. In addition, cold water or frozen food should not be placed in a hot piece of pottery. Always allow cooling or warming to room temperatures before heating in an oven or placing in a freezer.
Source: polishpotteryoutlet.com
Share this Post