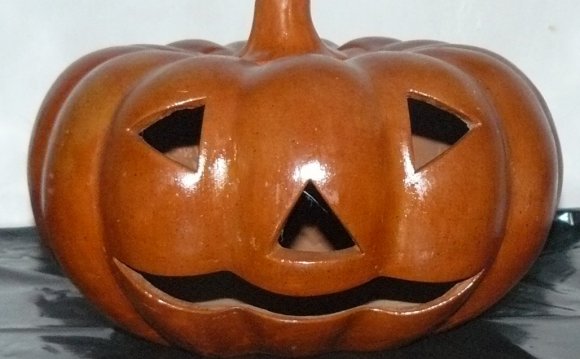 As featured on Parade.com
In the village of Boleslawiec, Poland Terri works with our artisans to ensure an exclusive Halloween design on our Polish stoneware Jack O' Lantern. Using the traditional folk art method, Halloween motifs are meticulously placed with hand-carved sponges and detailed with fine hand-painted brushwork. These exquisite details are preserved on each pumpkin through a glazing process fired at high temperatures, bringing you an everlasting beauty for years to come. Each Polish pottery Halloween Jack O' Lantern measures approximately 9 inches tall and 10 inches in diameter. No two pumpkins will be exactly alike. Handcrafted exclusively for Uno Alla Volta, from the hearts and hands of the artisans.

Click Here To Reserve The 2017 Edition!
Uno Alla Volta's Signature Gift Presentation

Our handcrafted treasures *can be presented in our signature gift packaging. Each artisan-crafted treasure is accompanied by a certificate of authenticity that may be personalized for the recipient.

Find out more »

*Items shipped directly from our artisans may not be eligable for our .

Reviews

By Wendy
from Culver City, CA

When I first saw this Jack-O'-Lantern I loved it but thought we didn't "need something more". But then, as I thought about it, I realized I would kick myself if I didn't get it. I was right. It arrived incredibly promptly and is the talk of guests in our home. We have tealights in it much of the time because it is so much fun to look at-and it isn't Hallowe'en yet! It is so joyous and remarkably artistically made. I'm so happy we got it. We plan on leaving it up all year 'round, it's that special!

By Thomas Rader
from Salem, Oregon

Source: www.unoallavolta.com

Share this Post