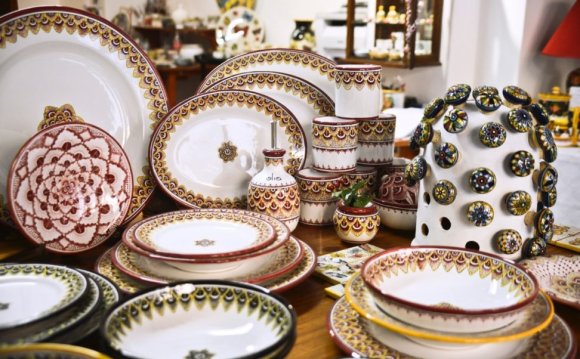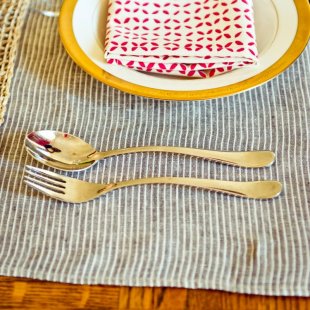 My registry flatware. I don't love them, but we still use them every day!
2. Flatware
We didn't know anything about flatware when we registered for it, and ended up registering for and receiving eight Gourmet Settings flatware sets from Target. That set is also what we still use today. The flatware itself is far from perfect, but the idea holds: Register for silverware! Be smarter than me and pick a really great set that you will both use for years and love. (I'm only hitting the former.)
What I'd do differently if I registered today: I'd research flatware more extensively before picking a pattern, make sure to test how the different pieces fit and feel in my hand, and then I'd register for at least 12 settings. (Eight is not enough if you plan to do any entertaining.) Specifically, if I were to register for flatware today, I'd register for the Old Denmark setting from Yamazaki. It took years, but we think we've finally found our perfect set. Ah, if only we knew then what we know now.
Read more →
3. Basic cookware set
This one is cheating a little bit, because we actually never registered for cookware. Someone gave us a 12-piece set of Wolfgang Puck's Café Collection cookware as a wedding present before we could pick out anything else, and that was just fine by us at the time. (Remember, we weren't avid cooks yet, and so didn't have any "ideal" in mind.) But here we are, 10 years later, and we still use those pots and pans, supplemented now by a few All-Clad, Lodge, and de Buyer pieces.
They might not be the fanciest pots and pans, but they've done a good job, and I'm grateful for all the meals we've gotten out of them.
What I'd do differently if I registered today: I think most people see a wedding registry as a chance to register for premium cookware, like All-Clad or Mauviel, and I'd be lying if I said I wouldn't do the same thing if I were to register today. There are reasons it's worth the extra price, and for a lifetime of cooking, it's smart to upgrade.
4. Crystal wine glasses
We only registered for one wine glass style — a balloon-style crystal glass from Lenox. I modeled my pick after the glasses my parents had when I was growing up. Those glasses were made of Austrian crystal, and I loved the bubble bowl shape and the thin, delicate stem. Lenox had a style close to what I remembered, and so that's what we registered for. I know they're not the "correct" style for every type of wine, but man, if I don't still love drinking out of them!
What I'd do differently if I registered today: Honestly? Not much. I really don't care if these are the "right" glasses or not. I love them, and the only thing I'd change is to register for six more!
5. Mini food processor
Up until about a month ago, Cuisinart's 3-cup food processor was the only food processor we had, and it was the very same processor we registered for 10 years ago. We worked this little food processor into the ground, and only called it quits after the handle cracked and it wouldn't clasp properly on its base anymore. Our replacement food processor has a much, much larger 16-cup capacity, but we still miss this guy. He was with us for a long time.
What I'd do differently if I registered now: While it's certainly nice to have a larger food processor now for some cooking jobs, the mini food processor really proved its worth for the time we had it. Could you arguably get similar results with an immersion blender, and for less space? Probably. But I think I'd still register for it again.
The Kitchen Registry Gifts We Rarely Used
Wine decanter: Yes, I know, I know — you should decant wine. But we can hardly be bothered to use the decanter we have. Sad, but true.
Panini press: As we've written before, this was a bit of a late 1990s craze. I went ahead and got rid of mine once I couldn't afford to give up space for it anymore.
Napkin rings: Ultimately just too fussy for my taste, even for special dinners. I ended up giving away most of the rings I registered for.
Multi-piece plastic kitchen utensil sets: So many plastic tools, so little use for most of them.
15-piece knife block: The first knives we ever owned were part of a 15-piece set that came in a big, heavy wooden block, which henceforth sat on our countertop for years until we realized we only ever used the chef's, bread, and paring knives, so we got rid of everything else. We eventually upgraded those knives, too.
Bread machine: I still have the bread machine we registered for, and even though I haven't used it in a very long time, I have a hard time giving it up. Still, if I had to do it over, I wouldn't get one, since it's such a space-hogging machine to keep around if you don't use it religiously.
10 Kitchen Items We Wish We'd Included
Enameled Dutch oven: Le Creuset or Staub. A total classic, and a piece we still don't have.
Instant-read thermometer: Yes, the Thermapen is totally worth it, which makes it worthy of inclusion on any serious kitchen registry.
A nice pepper mill: It feels like a luxury, but it's actually super practical. I'd want a Peugeot or a Perfex.
Half sheet pans: A kitchen essential, and a nice budget option for registry.
Nested mixing bowls with lids: A sturdy, stainless steel set will last for years. I'd register for either this Cuisinart set or this Oxo set. I also love this glass set from Williams-Sonoma.
Super-powered blender: If you're a blender person (and you know if you are), this is a no-brainer. Vitamix, BlendTec, or Breville are all solid choices.
Electric kettle: We have a basic electric kettle, and use it every single day. I'd love a temperature-controlled kettle, like this one from Breville. Great for tea and coffee drinkers, where temperature control is key.
Pressure cooker: I don't know that I would have thought to register for this 10 years ago, but I've been converted to the cult of pressure cooking. (See here, here, here, and here if you need convincing!) I'd probably register for the Fissler 8.5 quart Vitaquick.
A stellar chef's knife: I mentioned earlier that we eventually upgraded our knives ourselves, but if we'd known any better, we would have registered for a terrific chef's knife to start. Chef's knives are very personal, but here's a good place to start. I ended up falling in love with the Messermeister Meridian Elite 7-Inch Kullenschliff Santoku. It's just really light, comfortable, and fits my hand perfectly. It made chopping so much easier!
Source: www.thekitchn.com
Share this Post