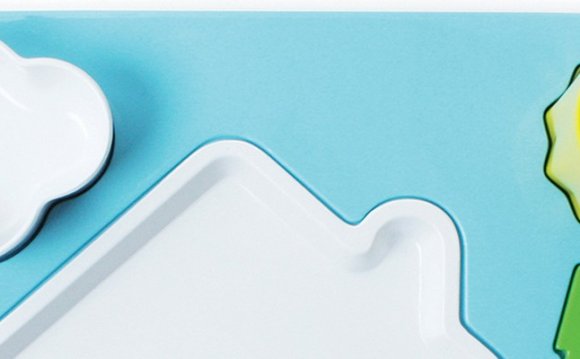 I recently served a tortilla bowl taco bar for some big dinner parties at our house. The tortilla bowls can be made in a variety of ways and are a fun to fill with taco ingredients or salad. Mini size tortilla cups are perfect for appetizer portions.
You may have had salad served in tortilla bowls in restaurants. If so, chances are the bowls were deep fried. All that hassle and mess of frying and all those fatty calories aren't necessary. The method I describe involves baking the bowls with no added fat at all. I've seen other recipes that called for coating the tortillas with oil or butter before baking. I tried that, but actually prefer them without any oil at all. They're crisp and delicious just the way they are.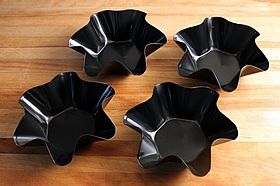 After making well over 100 of these bowls in the last month, I learned a few things. You won't believe how easy this is. Here's how.
Step-by-step photos for making
Baked Tortilla Bowls & Cups
Use your choice of flour tortillas.
I experimented with a variety of sizes. White and whole wheat both worked well. The tortillas I used were sold at room temperature. They were already soft and didn't require any heating to make them pliable.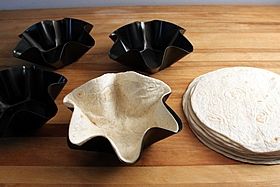 If you're using refrigerated tortillas, wrap them in a slightly dampened dish towel and zap them in the microwave for 20-30 seconds, just until they are soft. Don't overheat them or they will get hard and brittle. The tortillas below were 6", 8", and 10".
Method #1: Using Tortilla Shell Molds
If you'll be making these often or making a large number for a party, I highly recommend these molds. I got mine for a reasonable price on Amazon.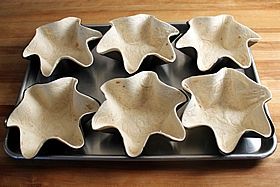 They are non-stick, easy to use, can be used with any size of tortilla, don't require any added oil, butter, or spray, and result in evenly browned and crisped tortilla shells.
(Click here for Amazon link to Tortilla Shell Makers)
For my taco bar, I used 8" tortillas. I could fit 6 tortilla shells on my 13x18" baking sheet. Baked them at 375 degrees for 15 minutes and they were perfect-evenly browned and crispy. Let them cool in the pan for a couple of minutes, move them to a cooling rack, reload the forms and bake the next batch. In a little over an hour, I could bake 24 tortilla bowls.
A big benefit of using these shell molds is that the finished tortilla bowls stack and nest compactly. They can be made ahead and stored in a large airtight Ziploc bag or plastic container.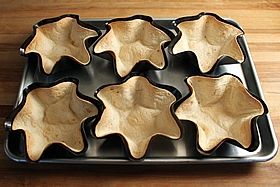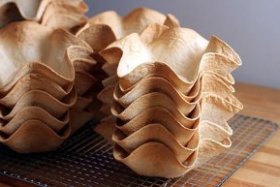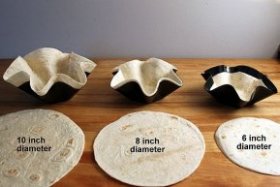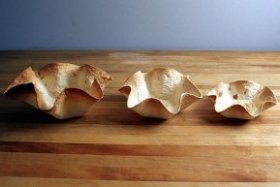 Source: www.theyummylife.com
Share this Post