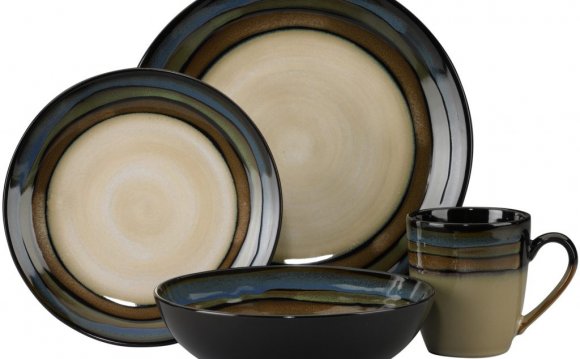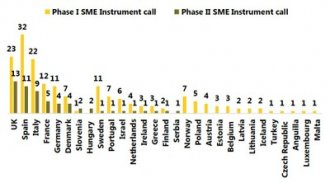 Business Innovation grants
The UK saw 13 of its phase II projects funded, ahead of both Spain and Italy. Phase II projects receive between € 0.5 and € 2.5 million each through business innovation grants. 58 SMEs from 16 EU countries have been granted phase II funding. Since the start of the scheme in 2014, Spain have had 81 phase II projects funded, followed by 62 in the UK and 54 in Italy.
Figure 1: Number of SMEs in each country which saw their Phase I and II projects funded in 2016 by the SME Instrument program
Proof of concept funding
For phase I projects this year, 166 projects involving 178 SMEs from 28 EU countries have been selected. The UK had 23 of its phase I projects funded (214 in total since 2014), in second position behind Spain (32 projects in 2016, 321 in total) and Italy (22 projects in 2016, 289 in total). Each project will receive € 50, 000 to finance proof-of-concept studies. This will include three days of free business coaching for new and market disrupting innovations.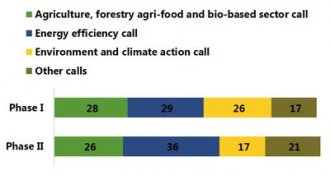 A large number of projects are funded in the bioeconomy sector as highlighted in the table below.
Figure 2: percentage of SME Instrument projects funded in all sectors for phase I and II (2016- 2017).
SuperBIO
A new Horizon 2020 project funded by the EU offers the opportunity for SMEs in the bioeconomy sector to benefit from innovation support services, to help the creation of biorefinery value chains. The SuperBIO project would allow an SME to double the money allocated for a phase I SME Instrument project for example. By submitting a value chain idea to the SuperBIO consortium, you could benefit from up to € 60, 000 of innovation support services including but not limited to sustainability assessment, pilot scale testing, life cycle assessment, market research, IP review and help to access government grant subsidy.
Source: www.nnfcc.co.uk
Share this Post