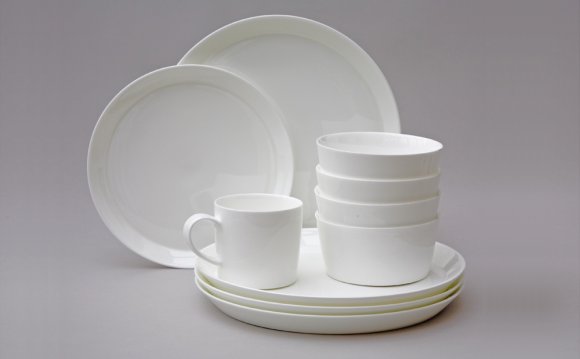 If you don't already have a favorite mug, or you want a fun, easy weekend project, grab a Sharpie and some white mugs, plates, or other dinnerware. That's all you need to make your own completely custom dishes, whether it's just a mug with a doodle on the side or a an intricately designed set of plates no one else has.
All you need are white mugs or plates (find them super-cheap at thrift stores or restaurant supply stores), and an ordinary Sharpie permanent marker. You can go crazy freehand and just start drawing on the plates or write your name or favorite quote on the mugs, or you can take some time and make a stencil to fill in with black or multi-colored markers for more intricate designs. When you're finished, just pop the mugs or plates into the oven (while cold) and bring it up to 350°F (~175°C) for about a half-hour to set the design.
It's that level of simplicity that makes this project so easy, and fun for kids and adults alike. Over at Cabin Connection, Lyndsey Gammage tested several different methods to get the longest-lasting, best-looking results, and found that oil-based Sharpie markers are ideal, along with an Acrylic sealing spray (easily found at most hobby stores) to keep the design from fading over time. Hit the link below to read more about her tests, or hit the Sweetest Occasion link to see how the mugs in the image above were made (and how to do great-looking custom plates using a stencil).
Note: A couple of people are pointing to a post at Pinstrosity that notes that an unfired mug would be best for this, and that without the sealing spray, the marker will wipe off pretty quickly, so keep that in mind if you try this project.
Source: lifehacker.com
Share this Post