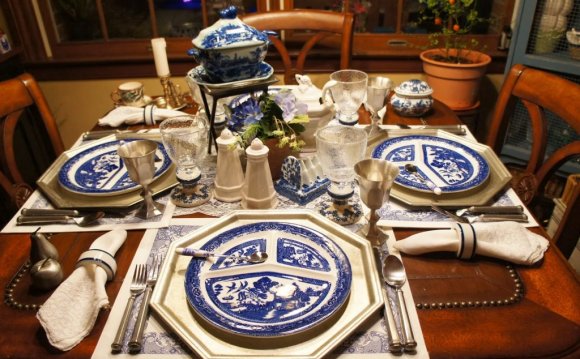 Black toile dinnerware (trade name: black transferware) is a style of 'toile' dishes that were first created in the 1780s by potteries like Spode, Wedgwood, and Minton in Staffordshire, England.
You can still buy vintage & antique black toile dinnerware: ! As for new black toile dishes: Some of the early 18th-century transferware designs are still produced today, but only in, not in black.
There's also some black/white toile-style dinnerware available, but it doesn't look anywhere close to the real deal.
Here's a selection of contemporary black-and-white dinnerware. It comes as close as we're gonna get (at the moment) to the look of original toile de Jouy print designs. As you can see, we're mostly miles off:
Except for the Wedgwood and J. Willfred plates, none of these designs would combine well with traditional toile de Jouy fabric or wallpaper. On the other hand, complete vintage black toile dinnerware sets tend to be hard to find and when you do, they're usually quite pricey.
Here are some ways around the table decorating dilemma:
Use a black-and-white toile de Jouy tablecloth and/or napkins, and then just add simple, elegant dinnerware in solid black and white (or cream, depending on the background color of the ). Or,
Decide on a style of black 'toile' dinnerware that's still in plentiful supply (i.e. not too antique or rare), and buy as much as you can find until you have a full set. Enjoy the hunt :-) Or,
Start buying black transferware whenever you find a piece you like, and fill the holes in the collection with plain unpatterned creamware. Don't worry about matching pieces. You'll end up with an incredibly charming, unique collection where (ideally) every person at the table has an individual set of plates and bowls.
Sidebar:
"Black toile dinnerware" is actually a misnomer: means 'cloth from (the town of) Jouy', so talking about 'toile dishes' or 'toile dinnerware' makes no literal sense. But many people now use the word 'toile' to describe just the print patterns on the fabric, so the original misunderstanding has taken on a life of its own. (Don't know why I have to be such an annoying nitpicker. Please ignore as you see fit ;-)
How to decorate with toile pattern: Check out these tips for for every room in the house!
If you're a dab hand with a sewing machine, check out the pages about and, all by the yard.
Learn about using neutral color palettes with your black toile dinnerware (or anything else, for that matter) Understand what makes neutral color schemes look their best, and what happens when you inject 'real' color into a neutral color palette. It's FREE!!
Yet to find the information you're looking for?
Type a word or phrase into the search box below:
Source: www.dreamhomedecorating.com
Share this Post