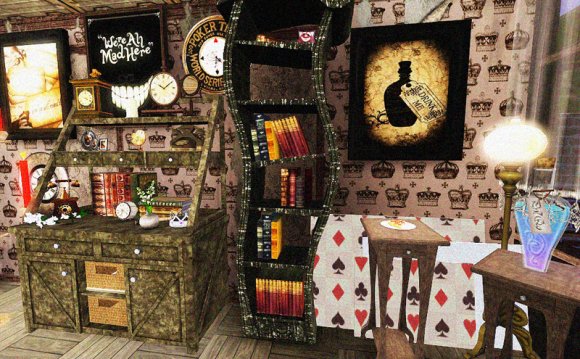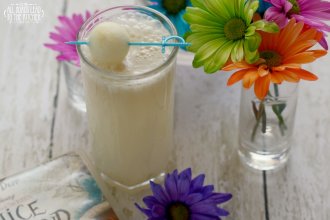 I'm about to say something that will make you question the fact that I was ever a child. I've never read Alice in Wonderland. I don't know why. I grew up with the animated Disney version. I love the latest Tim Burton-directed one. And I'm excited for it's follow-up, Alice Through the Looking Glass, that hits theaters tomorrow. I think I even own the book...though I couldn't tell you where it is (why no, I do not own too many books).
But when my friend Kimberly over at Coffee and Casseroles asked me if I wanted to do a Mad Hatter-style post in honor of the new movie release, I decided to grab the book from the library and at least do some skimming first. I actually picked up a few versions: the regular old book, a beautifully illustrated color book, and The Annotated Alice, which was my favorite with its introduction, drawings and many notes. So, I guess I should say that I've read bits and pieces of it...now.
Anyway, I mostly took my inspiration from the 2010 film for what I'm sharing with you today. Oh, and it's really more of a whimsical, Wonderland-inspired recipe that Alice might find along the way (as opposed to something you'd find at the Mad Hatter's table).
So, I don't have to explain the story itself...amiright? Instead, I'll talk about the food and drink. There's the obvious "drink me" potion and "eat me" cakes, the Queen of Heart's Squimberry Tarts, and tea party fare. I contemplated making cod as a nod to the "a corset is like a cod fish" line. Or some sort of "magic" mushroom dish.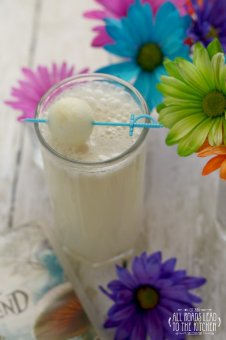 More inspiration images and ideas: Chesire cat, smoking blue catepillar, scones, warm pig belly, pork pie (hat), soup, "buttered fingers", rose-infused things (technical term, things), Jabberwocky blood, and apfelkuchen.
In the end, it was one of my favorite Wonderland creatures, the Bandersnatch, that I drew inspiration from. Early on, Mallymkun the mouse spears the fierce Bandersnatch's eyeball with her tiny, sharp sword. She then carries it in a netted sack attached to her belt. At the same time, Alice was scratched by the Bandersnatch.
Later in the movie, we find out that the Bandersnatch is really a gentle, kind creature that has been forced to do the Queen's bidding. In order to get to the sword that the creature is guarding, Alice gets his eye from Mallymkun and offers it to him. Touched by her act of kindness, when he sees Alice suffering due to the scratch being infected, he gingerly licks it clean, his saliva cleansing it and helping it to heal.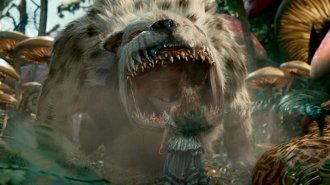 So, I decided to turn that healing saliva into a drink. What else! Three ingredients are all you need to make this sweet punch that is perfect for kids (or booze it up, if you're having a grown-up Alice party). The cream of coconut is essential in this recipe, because it adds that thickening "drool" quality.
So, stock up on plastic swords and don't forget to add a batch of Bandersnatch Drool to your next Alice in Wonderland inspired party or get together!
This coconut-pear punch looks like the healing saliva of Alice in Wonderland's gentle beast, the Bandersnatch. Garnish it with a pear "eyeball" to up the fun factor!
by
Prep Time: 5 minutes
Keywords: beverage
1 1/2 cups unsweetened coconut water (with or without "pulp")
1/2 cup pear or guava nectar
2 tablespoons cream of coconut
to garnish:
4 pear balls (cut from a pear with a melon baller)
4 sword cocktail picks
Place all of the ingredients for the drink into a jar with a lid and shake until foamy. Pour into glasses, garnish with a Bandersnatch eyeball pierced by a sword, and serve immediately.
make it boozy:
If you want to make these into cocktails, add 6 fluid ounces of coconut rum to the mix.
Notes:
You could also use a peeled & pitted lychee or peeled green grapes for the eyeball garnish.
If you like this, be sure to head over and see what Kimberly made for her Mad Hatter Tea Party contribution at Coffee and Casseroles!
Source: www.allroadsleadtothe.kitchen
Share this Post