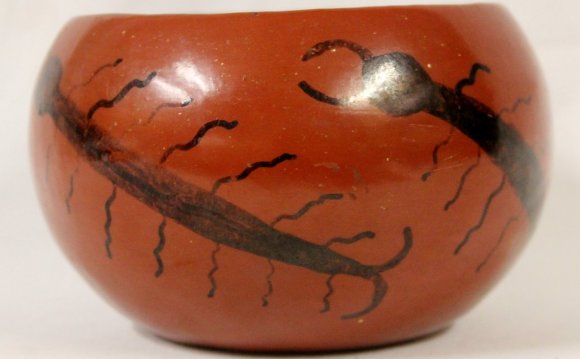 We are actively seeking quality art pottery consignments. We are most interested in American art pottery made between 1880 and 1920. We have a list of more than 30 makers whose pottery can be valuable. The list if not comprehensive of all of the makers we handle. It covers most of the major art potteries that are considered collectible. The factors that affect values are typically size, color, style, and rarity. Our guide should help you determine if your pottery falls into the good, better, or best category. Please contact us to learn about our 0% consignment rates.
Arequipa Art Pottery
Arequipa Pottery was located in Fairfax, California. It operated between 1911 and 1918. Arequipa is collectible and popular today because the famous ceramicist Frederick Hurton Rhead briefly worked there and made some exceptional vases. Your typical Arequipa vase is worth a few hundred dollars. The best of the best can be worth closer to $10, 000. These especially valuable vases should have raised squeeze-bag decoration. They should also be relatively tall and having some color never hurts.
Brouwer Art Pottery
Theophilus Brouwer is one of the few independent studio potters included in our guide. He worked out of Long Island in the late 19th and early 20th centuries. was a potter who worked out of Long Island, New York in the early 20th century. His pottery is popular because of the open firing technique. The best Brouwer vases have flame whipped glazes that create some really spectacular coloring. Brouwer pottery is very rare today. Most pieces sell for between $500 and $4, 000 at auction.
Dedham Art Pottery
Dedham pottery was a three generation operation out of Chelsea and then Dedham, MA. Hugh Robertson founded the company then his son William, and then grandson Milton Robertson ran the factory. The best Dedham vases are known for their rich red and green volcanic vases. It is really all about the glaze. Size is not very important. Really great Dedham vases are few and far between. They can sell for between , 000 and , 000 at auction. Less interesting pots are worth a few hundred dollars.
Susan Frackelton Art Pottery
Most Susan Stuart Goodrich Frackelton pottery will look very similar to the vase we are showing in our guide. Frackelton pottery is rare and closely followed by specialists today. Frackelton was instrumental in teaching a generation of china decorators. She also invented a gas oven that could be used in the home. Her pottery is special today because it is just decorated with a blue glaze on plain earthenware, yet it is still beautiful. Most pieces are worth thousands of dollars.
Fulper Art Pottery
Fulper pottery created tens of thousands of pieces of pottery starting in 1899 in New Jersey. The large majority of Fulper pottery is relatively common an inexpensive. Most pieces retail for between and 0. The best pieces are large shouldered vases and showpieces with exceptional glazes. We should also mention that Fulper lamps are very popular. A good lamp could be worth more than , 000. Please contact us if you need exact value information.
Grand Feu Art Pottery
Grand Feu operated out of Los Angeles between 1912 and 1917. The supply of Grand Feu is very limited today and the best pieces are hotly contested at auction. It is not unusual for vases with exceptional glazes and eye appeal to sell for more than $10, 000. Most Grand Feu vases have a dark metallic or green glaze. Grand Feu benefits greatly from being rare and from having been located in California. The vases alone are not extraordinary; the history surrounding them makes them desirable.
Grueby Art Pottery
Grueby, named after its founder William Henry Grueby, is one of the most celebrated pottery manufacturers from the arts and crafts era. Your typical Grueby vase is in an organic (usually vegetal) form with a matte green glaze. The absolute best Grueby vases can be worth in excess of $10, 000. However, there is a much larger supply of vases worth a few hundred to a few thousand dollars. Grueby tiles and lamp bases are also collectible and occasionally rare.
Hampshire Art Pottery
Hampshire pottery was founded by James Scollay Taft and it was located in Keene, New Hampshire. Hampshire pots are not as valuable as many other similar vases made during the same time period. Prices struggle because many Hampshire vases lack that original touch and flare that many other art and crafts vases have. Great Hampshire vases typically won't be worth more than about $2, 000. Their standard vase has a green glaze and typically sells for a few hundred dollars at auction.
Marblehead Art Pottery
If you like arts and crafts pottery then you have to love Marblehead. The history behind Marblehead is fascinating. The best news is that the best Marblehead vases can be worth more than $10, 000. If you don't have that kind of money to spend then there are plenty of vases that are worth less than $2, 000. The difference between the two price points usually comes down to size, carving, color, and age. Early, tall, colorful, and carved pots with eye appeal bring the most money.
Merrimac Art Pottery
Merrimac pottery produced arts and crafts vases between 1902 and 1908 in Newburyport, Massachusetts. The company was operated by T.S. Nickerson. There is no one word to sum up Merrimac pottery. Lots of different colors and shapes were used. There isn't a signature look or style that commands the most money. Value is really all in the eye of the beholder. Some vases can sell for more than $5, 000; many more are worth less than $2, 000. The total supply is limited at best.
Newcomb College Art Pottery
Newcomb is likely our favorite art pottery maker. Their pottery was made by young woman attending the arts and crafts program at Tulane University. Newcomb College pottery is far from rare, but the best pieces are brilliant and can be worth tens of thousands of dollars. Look for vases with carving, decoration, and glossy glazes. These are usually found on pieces made before 1910. There is a large supply of pottery made after 1910 that is worth $500 – $4, 000 when sold at auction.
Source: manifestauctions.com
Share this Post