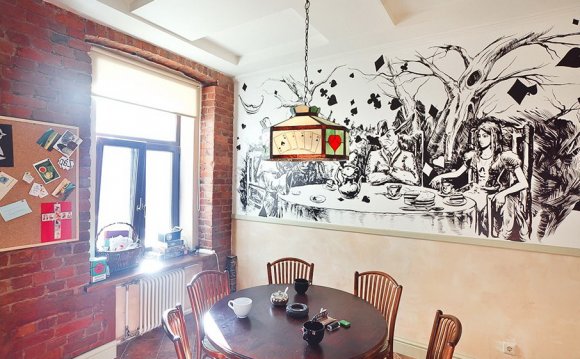 Has a house ever stirred up so much drama as the one in (Downton Abbey notwithstanding.) The wealthy Wilcox family's stately English countryside cottage—as depicted in the Academy Award–winning 1992 Merchant Ivory film and the 1910 E. M. Forster novel on which it was based—is, understandably, the object of everyone's desire. But there's more at play in Howards End than mere aesthetics: The question of who will inherit the house becomes a commentary on Britain's evolving class system. The newly restored film, which is being rereleased in New York today (and in Los Angeles on September 2), is also just plain gorgeous to behold. Helena Bonham Carter's performance as bohemian sister Helen Schlegel is equally admirable. AD spoke with the actress—who called in from a park bench in England—about everything from her memories of making the movie to her own fantastical home. Here's what she had to say.
Does the movie still resonate with you today? I think it's a classic. The definition of a classic is that it has something to say in every age. There are things that don't change in humanity—the lack of tolerance, the class disparity—so the central messages remain true. Of course, the one thing that makes it connect, and that is so fundamental to remember, is that despite any divide, we're all so fundamentally similar. I should read the book again.
What do you remember about filming? I loved it. I remember having a very happy time. I was 25, so that is how long ago? My God, it's 25 years ago—can that be? Was I 25? I think I was 25. Well, it was wonderful—all the locations, and lots of the usual mad things that happen on location.
Any particularly memorable mad things? I remember there was a lot of rain involved; I spent a lot of the time being wet. I was terrible with props—I still am—so there was a shot of me having to walk across the square in pouring rain, and I had to back into a house door with an umbrella. They wanted it quick—it was only an establishing shot—but to actually walk backwards through a door with an umbrella is harder than it looks. I was getting very, very stressed because the umbrella would get turned inside out. And I remember my character, Helen, being pregnant on film and really enjoying the fact that I had a bump. Even though you're pretending to be pregnant, and it's a pillow, people are very reverential.
The story is set in Edwardian times. Are you partial to that era? Yes, I love it. It was fun costume-wise. Also, Helen was fun and eccentric. I remember being with Jenny [Bevan, the costume designer] and getting particularly attached to Helen's hat—you can find your character through a piece. It's a great era to play around in.
Do you have a favorite era for design in terms of architecture and home decor? I love Georgian architecture because of the light and the wide windows and the stones. It creates a sense of calm. Victorian is too dark. I like anything Elizabethan, too. But I think I'd live in something with Georgian proportions.
Describe your own home. It's a very eccentric place. It's a great place. It's basically a group of artist studios. They were built in 1880, in North London, and commissioned by artists. In fact, they were called Little Renaissance, or Little Florence, I think. They're mainly studio spaces, with big open plans. I suppose, in a way, they look like lofts. There's a lot of light, but traditionally they're meant to be north-facing so they don't have shadows. There are a lot of things that I've added on. Most people who come to the house think it's basically a film set I've created.
What's your decor like? It's a bit of Wonderland. I think one thing I've taken from acting is that if you have an environment that helps you, it can change your life. It can change your outlook; it can make you happy or make you fantasize. I've always felt that because I use my imagination in my work life. As you grow up, you often forget it. But we have to live with imagination. It's a gift, and I try to teach my children to live with imagination. You don't have to let go of it just because you've grown up. My house looks as if it should be in a book, frankly, or should be in a make-believe land.
Are there any other favorite props you've kept? There are millions. I have a lot of Alice in Wonderland stuff and Alice in Wonderland themes, playing on dimension. We have a few outside things, like the chair from [Tim Burton's] Charlie and the Chocolate Factory, which was built for Deep Roy, the actor who played one of the Oompa Loompas.
Source: www.architecturaldigest.com
Share this Post