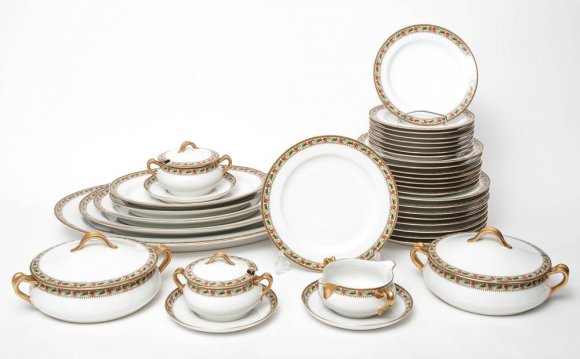 This remarkable 119-piece Flora Danica dinner service was crafted by the Royal Copenhagen Porcelain Manufactory. From the rich, hand-painted botanical motifs to the delicate rose accents, each piece in this set reflects the meticulous skill and artistry necessary to produce such an exemplary dinner service. Flora Danica is regarded as one of the most prestigious and intricate porcelain patterns ever created. Commissioned in 1790 by King Christian VII of Denmark for Empress Catherine the Great of Russia, Flora Danica has become synonymous with royal prestige and has remained the crowning achievement of the European decorative arts for over 200 years.
A work of scientific examination as well as artistic mastery, the designs are culled from George Christian Oeder's 1771 publication Flora Danica (Flowers of Denmark), an encyclopedia including 3, 000 hand-colored copper plate prints depicting every wild plant known to exist in Denmark, including mosses, fungi, ferns and flowers. In addition, the underside of each piece is labeled with the Latin name of the plant depicted in the design.
The creation of the Flora Danica service was the life's work of Johann Christoph Bayer, one of the most gifted artists of the late 18th century. It took Bayer over 12 years to complete the service, which was intended as a gift for Empress Catherine the Great of Russia. Unfortunately, Catherine died in 1796 before it was complete, and the service was then placed in the collection of the Danish Royal Family. Flora Danica was first used on January 29, 1803 for the banquet celebrating the birthday of King Christian VII. Since that time, this exquisite pattern has remained the centerpiece of ceremonial occasions, weddings, and visits by foreign dignitaries. Today, pieces of Flora Danica are exhibited in the Danish Royal Collections of Rosenborg Castle and Amalienborg Palace, as well as Queen Elizabeth II's private collection at Windsor Castle.
Source: www.rauantiques.com
Share this Post