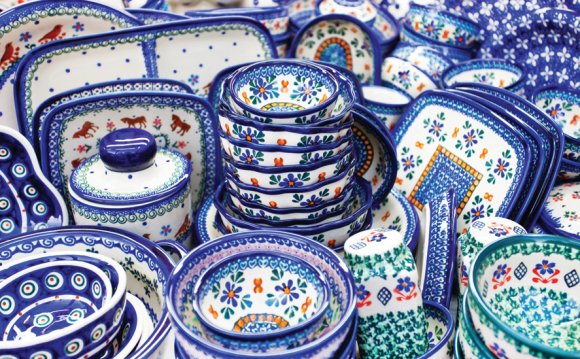 Heirloom Pottery for Everyday Use!
Add functional art to your everyday tableware, dinnerware, and bakeware with hand-crafted Polish pottery. Polish Pottery, located in Melbourne, Florida, imports this time-honored and authentic stoneware directly from Boleslawiec, Poland where artisan potters pain stakingly mold, fire, and hand paint each piece.
Mixing function with folk art, Polish pottery is made from a special white clay fired twice at extremely high temperatures, making each piece safe for use in the oven, microwave, and dishwasher!
Traditionally painted to resemble the feathers of a peacock, artisans used sponge stencils to hand stamp circles and dots using bright blue and green glazes as a common theme. Now, with hundreds of designs, shapes, and colors available to match nearly any kitchen decor, collectors mix and match multiple patterns to create a truly unique set.
When it comes to your collection, Teresa Beach, owner and importer at Polish Pottery, says, "Don't overthink it and go with what you like. You will find that the more patterns you have, the easier it is to add another into the grouping."
For over sixteen years, Polish Pottery has been selling and shipping these beautiful and durable pieces all over the world. They work direct with the very best pottery manufacturers in the heart of Poland's ceramics capital to procure only the highest quality stoneware.
Shop or browse the selection of plates, bowls, serving platters, mugs, and accessories online at Each piece purchased on the website is carefully packed and shipped via UPS to the destination of your choice. For savings up to 50% off of retail, visit the warehouse outlet store off of New York Avenue in Melbourne. We are now also at the Vero World Bazaar and Antique Mall, 720 S. UsHwy 1 in Vero Beach.
Source: verobeach.com
Share this Post