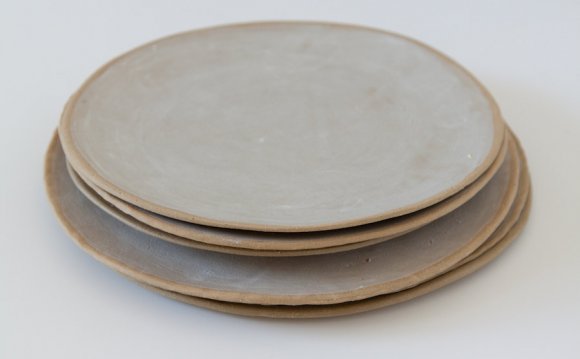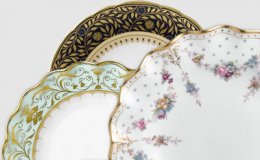 Understanding Dinnerware Materials

What are the different types of materials used to make dinnerware?
Luxury dinnerware is usually made of either porcelain or bone china. Casual dinnerware is made from earthenware or stoneware because these are usually more durable, easier to care for, and lower in price.
– Porcelain: The key ingredient, kaolin, is what makes porcelain so extraordinary. Fired at a the highest temperatures, porcelain combines a stark white appearance with incredible durability to make timeless pieces that will last in beauty and reliability for years to come. Well-known names to consider include Raynaud, Haviland, and make beautiful pieces.
Care: Most porcelain items are dishwasher and microwave safe. We recommend hand washing for larger pieces, handpainted collections, or items with gold or platinum decoration. Items with metallic decoration should not be microwaved.
– Bone China: This is a very fine, soft-paste clay that is made from several key ingredients, including bone ash. The result is a beautiful, high translucency white with warm, ivory tones. Considered by many to be the finest quality of china, it has great strength and very high chip-resistance. Brands we suggest: Pickard, Royal Crown Derby.
Care: Most bone china items are dishwasher and microwave safe. We recommend hand washing for larger pieces or items with gold or platinum decoration. Items with metallic decoration should not be microwaved.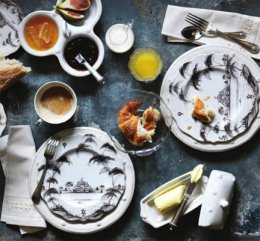 – Stoneware: Ideal for casual dining, stoneware is fired at very high temperatures to produce pieces which are durable and quite chip-resistant. Available in a numerous range of colors, some pieces also have beautiful crackled surfaces. Brands we suggest: Gien, Jars, Juliska, Vietri.
Care: Dishwasher, microwave, oven, and freezer safe.
– Earthenware: as it is fired at relatively low temperatures, this type of pottery is more porous and less translucent than either porcelain or bone china. These pieces are relatively thick and heavy, and their natural colors range from from buff to red, depending on the clay used. A much-beloved characteristic of earthenware is that it is likely to crackle as the clay expands and contracts, but this does not affect the use of the piece. Brands we suggest: Vietri.
Care: Dishwasher safe; most are microwave safe on low to medium settings. We recommend avoiding sudden temperature changes.
What is Limoges porcelain?
Limoges refers to a region in France where some of the earliest porcelain pieces were produced as far back as 1765. For centuries, the name Limoges has represented the finest quality and craftsmanship in porcelain throughout the world. Limoges porcelain is very white; most of the best-known producers of French porcelain are based in Limoges.
What are some simple ways to determine quality in dinnerware?
You can determine the quality of porcelain and fine china with a few simple tests:
– Hold the piece up to the light and you should be able to see the shadow of your hand behind the porcelain.
– Flick the plate with your fingers and listen for a resonant ring.
– Examine the color and make sure the glaze is even; the finish should be smooth and lustrous.
What dinnerware styles are available?
Generally, dinnerware is broken down into casual and formal collections. From there, you can choose between four major styles: solid (meaning one color throughout, with no pattern), banded, patterned, and handpainted.
Suggested Quantities

How many dinnerware collections do I need?
In making this decision, we suggest considering the size of your family, the type of entertaining you are most likely to do (formal seated dinners or buffet brunches), and the complexity of your menus. Many people choose to have at least one casual collection for everyday use and one formal collection for selected occasions (usually porcelain).
Source: www.graciousstyle.com
Share this Post