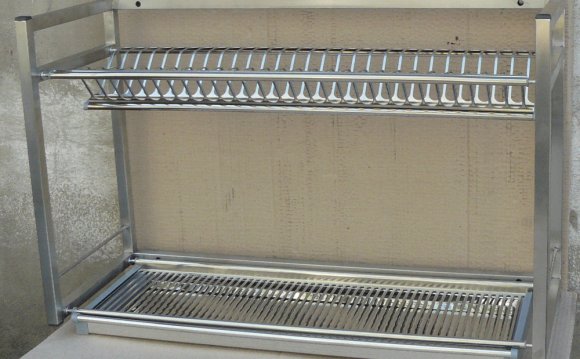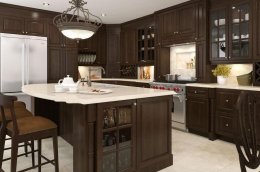 If you are fortunate enough to have glass-front cabinets, what you keep inside them should reflect the look you've chosen for your kitchen.
By Lea Schneider
I'm personally only on my seventh kitchen, but as a professional organizer, I've helped move into kitchens too many times to count and it is still one of my favorite things to do. Even if we're just organizing or remodeling, everything comes out of the cabinets and goes back in, much like a move.
The possibilities for arrangement are endless. They are often like an intricate puzzle where you want all the pieces to fit, but you also want them to be in the most useful location. Glass-front cabinets are a real treat to organize. Instead of just being utilitarian and holding the necessary supplies, they become art. Sometimes, they even become the focal point of the kitchen.
Glass Cabinet Doors Are Naturally Neat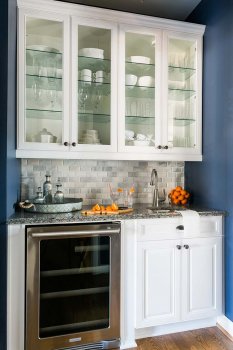 Occasionally, someone will be daunted by the idea of glass-front cabinets. "I'm so busy. I'm just not neat, " they will say, but you don't have to be a super neat-nik to have great looking glass-fronts. They actually help you stay tidy. Choosing items that are naturally neat without effort, such as stacks of dinner plates or rows of pretty drinking glasses, will help. The items are both useful and pretty on their own. It won't take any special effort on your part.
There are a number of themes you can use in glass fronts. You'll want to have a plan for them so as you sort and organize your belongings, you can set aside the things you want on display.
Go White
You almost can't go wrong by choosing white dinnerware. Rows of coffee cups, bowls and stacks of plates look pretty on their own. Display larger pieces such as white trays, serving bowls, lidded casseroles or creamer and sugar bowls. Line up clear glasses.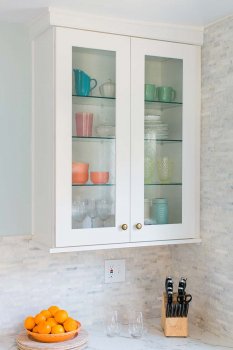 They sparkle when the cabinet light shines through them.
Show Off
Glass-front cabinets are the perfect spot to show off the treasurers you've acquired over the years, such as great-grandmother's Depression glass or your mom's favorite pottery vase she gave to you.
Choose dishes that are in the same color family. In this case, soft pastels create a pleasing-to-the eye scene. Mix in some white so your favorite colored pieces stand out with a splash.
Homes with an open floor plan may have fewer walls to support big pieces of furniture. You might not have a spot for a china cabinet, but you can use glass-front cabinets to hold and display your lovely wedding china. Use plate stands to keep a few of the plates upright and arrange the rest in varying heights.
Don't Be Afraid
Utilitarian items, like this shiny, bright red mixer, can look great behind glass when paired with serving dishes and a pretty green salad bowl. Don't be afraid to organize things you actually use into glass-front cabinets.
Source: blog.coldwellbanker.com
Share this Post