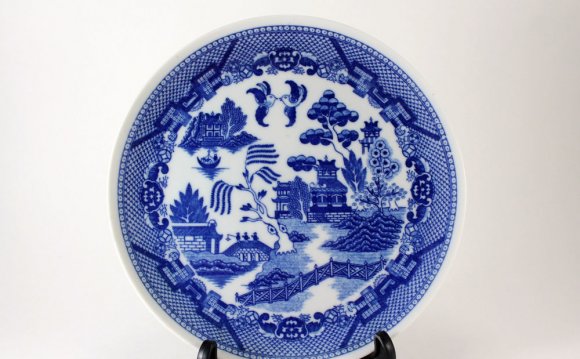 The art of making decorated porcelain ware originated in China more than 1, 000 years ago. From 960 through 1127, during the Song dynasty, emperors established factories to produce porcelain for the royal family. During the Ming dynasty (1368-1644), the familiar underglazed blue-and-white patterns many people associate with fine "china" were developed, while detailed decorative painting over glaze also became a common technique.
Chinese porcelain was exported to Europe as early as the 1100s, but it was rare and only available to the very wealthy. During the Qing dynasty (1644-1911), a wider variety of designs were exported. Demand for china cups and saucers increased as tea, coffee, and hot chocolate became popular beverages. Each drink demanded its own type of pot, cups, and accessories.
In response to the demand, European potteries attempted to manufacture their own porcelain, and by the 18th century, the Europeans were successfully competing with the Chinese. France became a leading manufacturer of soft-paste porcelain, which is not made with kaolin like traditional Chinese hard-paste porcelain. The France porcelain industry was established in the late 17th century in places like St. Cloud, Mennecy, and Chantilly. In the middle of the 18th century, though, Louis XV created his own royal porcelain pottery at Sèvres on the outskirts of Paris. By the late 1700s, porcelain blanks were being produced in the city of Limoges, which was near a good supply of clay. The blanks were shipped to Sèvres where they were glazed.
True hard-paste porcelain production in Europe began in 1710 at the German factory of Meissen. Among its many innovations, Meissen gets credit for introducing the porcelain figurine. Meanwhile, English potteries started producing bone china in large quantities around the middle of the century in Staffordshire at Stoke-on-Trent, where Josiah Spode established his pottery, and in Bristol, where Royal Worcester got its start.
Although technical advances made porcelain more available to a wider range of people during the 19th century, earthenware (baked clay) and stoneware (clay fired at an intense heat to make it nonporous) continued to be popular for dinnerware items. Mass-production of china and dinnerware began in the late 19th century, with a corresponding decline in the quality of craftsmanship and materials. Fine porcelain dinnerware was more commonly used for decoration than to hold food. By the 20th century, colorful functional designs such as Franciscan and Fiesta were in high demand.
Collectors today have access to a wide variety of antique and vintage china and dinnerware. In this section we provide a sampling of some of the major makers, styles and regions, including British (Royal Doulton, Royal Albert, Spode, Wedgwood, Royal Worcester, Johnson Brothers), Japanese (Noritake), German (Meissen, which is sometimes referred to, inaccurately, as Dresden china), French (Limoges, Haviland), Danish (Royal Copenhagen), and American (stoneware, Fiesta, Franciscan, Lenox, Red Wing).
Restaurant Ware Collectors Network
Don't miss this collaborative reference guide to china and dinnerware used in public, commercial venues. The site c… [read review or visit site]
The Bowes Museum: Ceramics
This gallery showcases highlights from the 5, 000 items in the museum's ceramics collection dating from 1500-1900. I… [read review or visit site]
Ceramics at The V&A
A great reference on ceramics from the Victoria and Albert Museum. Learn about different ceramics techniques and st… [read review or visit site]
Source: www.collectorsweekly.com
Share this Post