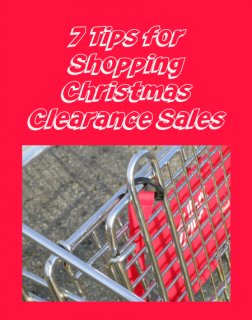 Now that Christmas is over, it's time for the Christmas clearance sales!!! Of course, these sales are always good to get gifts for next year at a discounted price, but there are things you can get that won't have to be stored away for a whole year until they are useful. Here are some of my tops tips for the sales. Before, I start with the list of items to scout out in your shopping, let me note that unless there is something you really need, wait until the sales hit 75% or 90% off until you buy. Sure – some things may be sold out, but if it wasn't something you really needed it's no big loss, right?
1. Many patterns of Christmas wrapping paper that are either solid color or have simple geometric shapes can be used for other occasions. Most of the birthday presents I give are wrapped in Christmas paper, but you would never guess it! It always seems like Target has a lot of these multi-occasion designs.
2. Look for disposable plates, paper towls, food wrap and plastic bags with Christmas designs or packaging. Solid color plates/cups can be used throughout the year and if it's just for home use the other paper goods are useful even WITH Christmas designs. All of the Ziploc baggies I have used for the last 8 years have snowflakes on them since I snagged them for 14 cents a box many years ago!
3. Chocolates wrapped in foil or other candies can be used for baking or for other occassions. One of my favorite tricks is to buy the clearanced bags of Christmas Hershey kisses that are wrapped in red, green, gold and silver wrappers. I open the bags and sort out the red and silver wrappers to use for Valentine's Day and then the green and gold wrappers to use for St. Patrick's Day.
4. Speaking of Valentine's Day, any decorations, wrapping, chocolates, etc. in plain red wrapping is great to use for Valentine's Day and it's not too far away! You can also get plain red napkins, plates, wrapping paper and other "red" items perfect for the holiday.
5. If you know anyone getting married or having a baby in the coming year, grab a clearanced "Our First Christmas" or "Baby's First Christmas" ornament. Just make sure that it doesn't have "2014" written on it! You can also get a mom or grandma ornament to use as a Mother's Day gift.
6. Check out the baking supplies and mixes. Stores that usually don't carry many baking supplies, such as Walgreens, will drastically reduce the price of these items after Christmas. Betty Crocker and Pillsbury both make Christmas-themed cake mixes and cookie mixes that will be with Christmas clearance in Target and other stores. Also, check the refrigerated area of your grocery store for discounted christmas cookie dough.
7. In the clothing area, many "Christmas" designs are often just winter designs. I have bought snowflake t-shirts and long sleeve shirts from Target 90% Christmas clearance and they work fine all winter long, not just around the holiday.
Source: thriftyjinxy.com
Share this Post