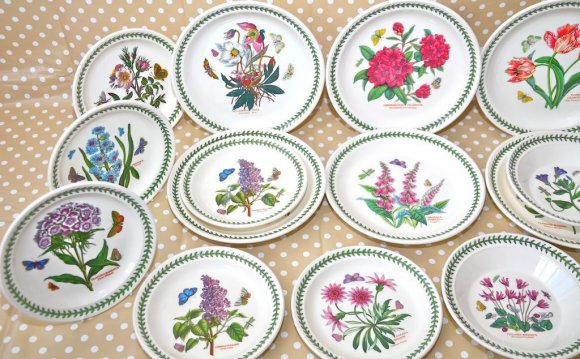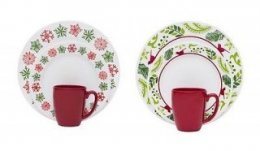 In the market for a collectible dinnerware set ?
During the holiday season and other occasions, special meals are served with tableware that completes the overall decor. From upscale to inexpensive; here are a few that outshine the others when it comes to quality, durability, and design.
Both the Thanksgiving and Christmas tables shown above have made use of underplates and other accent pieces for a formal but festive dining experience.
THANKSGIVING
Thanksgiving may include bringing out the fine china, or perhaps you prefer a more casual gathering. Either way, off white and white collections are always in style as well as traditional Autumn designs and colors. While there are many products out there, these are some of the highest rated by consumers (and better quality) items we've found. Pictured left at the top of this page is Crate and Barrel's Antique White collection with delicately sculpted rims accompanied by Reed & Barton Queens Garden stainless flatware. To the right, a Martha Stewart Christmas tablescape featuring gold flatware.
A few fine dinnerware brands worth noting in both formal and casual styles include Lenox, Mikasa, Noritake, Homer Laughlin/Fiesta, and Pfaltzgraff - available in many beautiful patterns and solid colors.
Shown here is the Lenox Eternal Gold collection, elegant fine china designed in ivory and 24K gold. A dinnerware pattern of exquisite beauty, Eternal Gold is suitable for even the most formal of occasions. Perfect for entertaining on Thanksgiving as well as the Holiday season.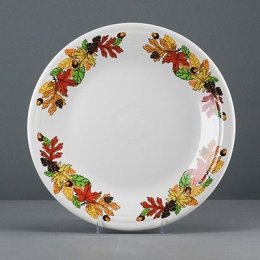 CASUAL
The Homer Laughlin/Fiesta Fall Fantasy collection is also a very popular choice for the entire season as well as Thanksgiving. Not only is Fiesta made in the USA, it is also lead free and extremely durable. This pattern can be mixed and matched with many current or retired Fiesta colors such as white, paprika, chocolate, tangerine, sunflower, shamrock green... and the list can certainly go on.
Pictured below is the Plymouth ensemble by Pfaltzgraff. This quality dinnerware features an attractive Autumn motif and generous sizing. Well suited to either casual or more formal tabletops, Plymouth offers all types of coordinating pieces from soup tureens to a gorgeous turkey platter, chip-n-dip trays, pie servers, and more available in matching and alternative designs as shown. Due to it's versatile appeal, this collection is appropriate for use during the entire fall season.
Moving right along, we now discuss Corelle... possibly the only company which manufactures such a wide array of products at affordable pricing. Offered in hundreds of patterns, colors, and styles; Corelle is perfect for casual dining or more formal entertaining. The choices are virtually endless.
Introduced in 2013 is the Corelle Boutique collection. Bright white dinnerware with gorgeous embossed designs, this product line remains true to the celebrated heritage of Corelle with chic sophistication.
To the right is the Boutique "Flourish" dinnerware set, featuring modern squared silhouettes. This would compliment any table from casual to formal as it boasts the appearance and feel of finer dinnerware with the durability and features Corelle is known for.
The Boutique product line received 5 star rave reviews within the first year of sales!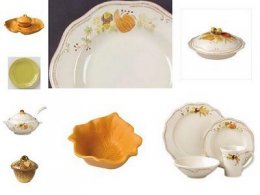 VALUE ALERT
For Thanksgiving/Holiday dinnerware on the cheap, Better Homes and Gardens also offers quality products at very affordable prices.
CHRISTMAS HOLIDAYS
There are products for every taste to select from in stores during the holiday season, as well as on the web. The more elegant table may boast gold/silver flatware and china with decorative rims or fine dinnerware which is also celebrative in design. Shown here is the world's favorite holiday fine china collection, the Spode Christmas Tree.
To the left is the elegant yet festively designed Lenox Holiday Gold. This pattern features an attractive Christmas Holly and Berry motif, celebrating the season in style. There are also many coordinating pieces available including serveware and children's place settings.
To the right is a plate from the Noritake Silver Palace collection, a fine dinnerware ensemble designed in winter white and platinum tastefully accented by silver. The Christmas Tree has just a hint of gold to add to the flair of this enchanting pattern.
But there's much more to the Silver Palace. It is also an impressive fine dining collection. The Silver Palace dinnerware and dishes collection is a masterpiece, combining smooth white bone china with a band of embossed, silver-trimmed detailing, lavishly finished with a polished platinum rim. Perfect for formal use not only during the holiday season, but throughout the year.
These are but a few of the many fine dinnerware products to be found. Fiesta, Mikasa, and Pfaltzgraff also manufacture very nice collections for the Holiday season as do Oneida and Martha Stewart. You may also want to investigate the array of product selections exclusive to Macy's as well.
CORELLE CHRISTMAS: THE TRADITION Corelle has been a family tradition for decades. Made in the USA, lead free, lightweight, superior durability, and signature space saving features all make Corelle one of the most popular dinnerware brands in households across the country.
Although there are hundreds of patterns to choose from, limited Holiday themed products have been offered in recent years. Shown here is the retired but still wildly popular Winter Holly dinnerware set.
We have also put together a small but informative guide on Corelle Christmas Holiday dinnerware. Do visit if you get a chance :)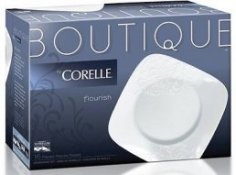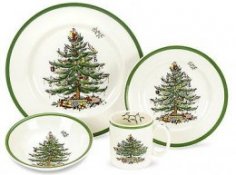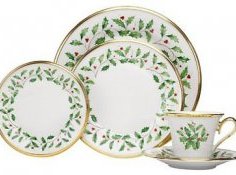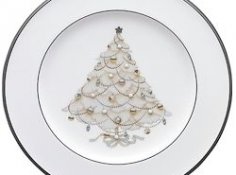 Source: www.ebay.com
Share this Post